Latin America
North America
World News
Blackwater planning to oust Maduro by sending mercenaries to Venezuela: Report
The notorious US mercenary firm Blackwater has been reportedly lobbying with the administration of President Donald Trump as well as opposition figures of Venezuela for a secret mission to topple the Latin American country's president, Nicolas Maduro.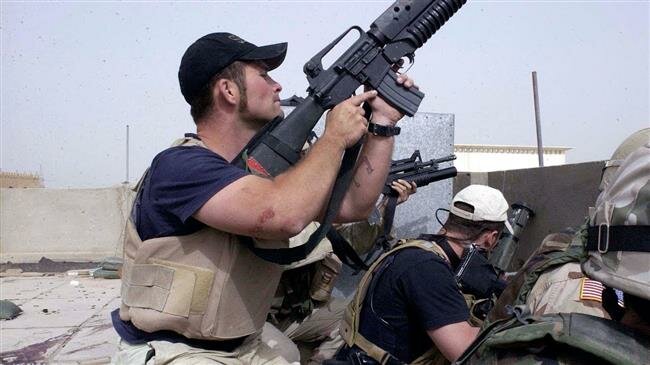 The exclusive report by Reuters on Tuesday, citing four unnamed sources, revealed that Erik Prince, the founder of the controversial private security firm, who is also a firm Trump supporter, has offered to deploy an army to the South American country in order to oust Maduro.
According to the report, Prince has been mainly seeking investment and political support for his plan from influential Trump supporters and wealthy Venezuelan nationals who have long been living in exile.
The sources said he has asked for at least $40 million in funds plus a chunk of billions of dollars Venezuela has in frozen assets around the world.
In his private meetings, which stretch from the United States to several European countries, Prince has set out a plan to recruit up to 5,000 mercenaries on behalf of Venezuelan opposition leader Juan Guaido, who has challenged Maduro since January by proclaiming himself president.
The sources who had direct knowledge of Prince's plan said it started with intelligence operations and continued by deploying to Venezuela between 4,000 and 5,000 forces from Colombia and other Latin American nations to carry out the mission.
The attempt is still ongoing as one source said Prince has held meetings as recently as mid-April.
It is not yet clear which Trump officials Prince has been able to reach out to.
Earlier this year, National Security Adviser John Bolton was photographed holding confidential papers included two lines of writing: "Afghanistan -> Welcome the Talks," which referred to ongoing negotiations between Washington and the Taliban militant group, and "5,000 troops to Colombia."
Bolton lets slip possible US military plan for VenezuelaTrump's hawkish national security adviser was seen holding notes that suggested Washington is planning a major troop deployment in Colombia amid Venezuela tensions.
The mysterious line might provide clues into Washington's secret plans to carry out military intervention in Venezuela, an option American official have said is on the table along with other economic and diplomatic measures.
A Guaido spokesman told Reuters that Venezuela opposition officials have not discussed security operations with Prince.
This is while Lital Leshem, director of investor relations at Prince firm Frontier Resource Group, had recently confirmed Prince's interest in possible Venezuela operations.
"He does have a solution for Venezuela, just as he has a solution for many other places," she said without providing further details.
Marc Cohen, a spokesman for Prince, said earlier this month that the Blackwater chief "has no plans to operate or implement an operation in Venezuela" and declined to answer further questions.
One source said Prince insists that Venezuela needs a "dynamic event" to break the political stalemate.
Maduro has denounced Guaido, who has been recognized as Venezuela's president by a number of western nations, a US puppet looking to stage a coup.
Venezuela's key government institutions – including the military – remain loyal to Maduro despite international pressure to join Guaido.
During the Iraq war, the US government hired Blackwater to provide security for State Department operations there.
In 2007, Blackwater employees sparked international outrage by killing 17 Iraqi civilians in Baghdad.
Prince renamed the Blackwater security company and sold it in 2010 after the scandal. However, he recently opened a company called Blackwater USA, which sells ammunition, silencers and knives.
He has also been trying to convince the Trump administration to replace US soldiers in Afghanistan with security contractors following Trump's announcement to reduce the number of foreign forces in the country.
Since 2014, Prince has been running the Hong Kong-based Frontier Services Group, which provides security, aviation and logistics services to Chinese firms operating in Africa.
Prince donated $100,000 to a political action committee that supported Trump's election. His sister, Betsy DeVos, is the administration's education secretary. .
The two sources with direct knowledge of Prince's Venezuela plan said he is seeking $40 million from private investors.