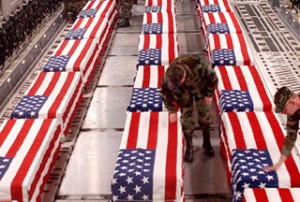 Four American soldiers and one British soldier have been killed in two separate explosions in southern Afghanistan.
The dead soldiers, who were serving under NATO's International Security Assistance Force, were killed on Sunday, NATO said in a statement Monday.
The US soldiers died following an improvised explosive device strike, the statement said without giving more details.
Meanwhile, a British soldier was killed in another roadside bomb blast in southern Afghanistan, according to British forces.
The British soldier, from 1st Battalion The Royal Anglian Regiment, died after the blast hit a foot patrol in Helmand province.
Regarding US casualties in Afghanistan, the number of American service personnel killed in the war-torn country in 2009 is more than twice that of 2008.
Since the US-led invasion of Afghanistan in 2001, countless number of American and foreign troops along with Afghan civilians have been killed in the country.