Latin America
Bolivian FM Stresses Iran's Ability to Activate NAM Capacities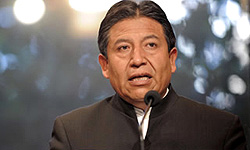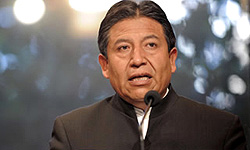 Bolivia's Foreign Minister David Choquehuanca, who is in Iran to attend the ministerial meeting of the Non-Aligned Movement (NAM), expressed the confidence that Tehran is able to fully use the movement's capacities.
"Our goal for attending the (NAM) summit is in fact promotion of peace in the world. I am confident that the NAM movement enjoys high capacities and Iran will use this capacity in its best form so that the movement could move in a direction to meet views of the member states," Choquehuanca told FNA on Monday.
He further announced that he is scheduled to meet several high-ranking Iranian officials, including Foreign Minister Ali Akbar Salehi on the sidelines of the NAM meeting to strengthen bilateral ties.
The meeting of NAM Foreign Ministers will be held for two days on August 28-29 with the NAM Summit slated for August 30-31.
Iran will assume the rotating presidency of the movement from Egypt for three years during the upcoming summit.
The NAM is a group of states considering themselves not aligned formally with or against any major power bloc. The movement had 120 members and 17 observer countries.
The countries of the Non-Aligned Movement represent nearly two-thirds of the United Nations' members and contain 55% of the world population. Membership is particularly concentrated in countries considered to be developing or part of the Third World.