North America
Bomb blasts at Boston Marathon kill 3, injure 130 and trigger national alert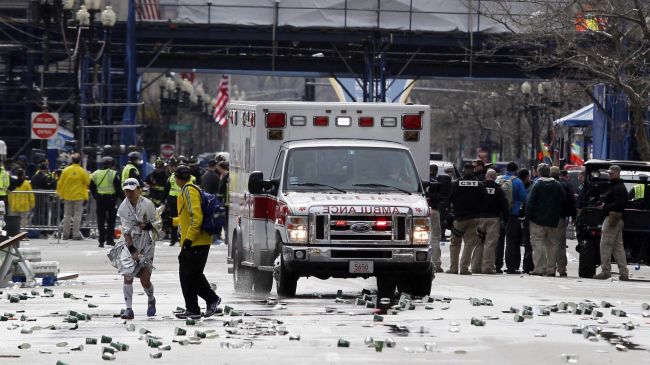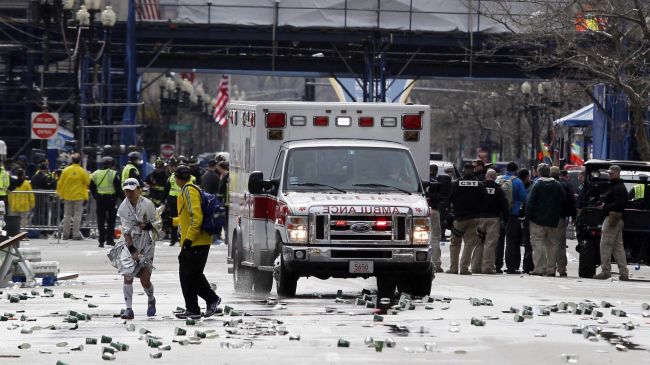 The twin bombing at the major northeastern US city of Boston near the finish line of the city's annual cross-country marathon race has killed at least three people and injured over 130 other as major cities across the nation have gone on high security alert.
As runners in the prestigious Boston Marathon race continued to cross the finish line on Monday afternoon, two bomb blasts, about 15 seconds apart, went off reportedly by a remote-control devise, releasing orange balls of fire into the air and lifting runners off their feet, with many of the injured left with lost limbs.
The destructive impact of the two blasts quickly spread across the major city and throughout the country, as top American officials and lawmakers described the bombings as terrorist attacks reminiscent of the September 11, 2001 incidents in New York and Virginia that left nearly 3,000 people dead.
This is while air traffic at Boston's busy Logan Airport was halted as police officers demanded motorists to evacuate the city, and mobile phone service was temporarily cut to prevent potential remote detonation of explosive devices.
City authorities and medical personnel reported that the casualties included children, with one of those killed identified as an 8-year-old boy. At least 10 other children were also reported among the injured.
A 54-year-old spectator, Allan Kaufman, was watching the marathon at the finish line when the bombs went off. He turned away when he saw body parts on the sidewalk, according to one local news report. "We can't do this anymore. We can't have open events anymore," he said. "You can't control it."
Meanwhile, local press reports said a surveillance photo showed a man with two backpacks at the scene shortly before the explosions. There are also reports that a "Saudi national" that was injured during the incident and taken to a local hospital was being questioned by authorities.
Boston Police Commissioner Ed Davis said Monday night, however, that there were no suspects but that "the police were talking to some people."
According to police officials, the bombs had been placed in trash cans, less than 100 yards apart and that they found at least two suspicious packages at other downtown locations, including a footbridge near the city's Copley Plaza Hotel.
Moreover, a bomb squad reportedly exploded an unknown object found near the Boston Public Library. The police radio crackled with reports of fires and explosions, local news reports said, adding that "the city's core was shut down, and buses cordoned off major streets." Police took to loudspeakers to tell motorists to "evacuate the city." Long lines of ambulances queued outside some of the city's finest hotels.
Federal authorities, meanwhile, were treating the blasts as a terrorist attack as FBI special agent Richard DesLauriers in Boston said an investigation is being launched by a joint terrorism task force of federal, state and local authorities. "It is a criminal investigation that is a potential terrorist investigation," he added during a Monday night news conference.
Security was further reported tightened not only in Boston but in New York City and at several key locations in the capital Washington, including the US Congress and in front of the White House.
President Barack Obama called Boston Mayor Tom Menino and Massachusetts Gov. Deval Patrick to express his concern for those injured in the blasts, and directed his administration to provide whatever assistance was necessary.
The Boston Marathon attracts an estimated half-million spectators and some 20,000 participants every year. The sports event has been held on Patriots Day, the third Monday of April, since 1897.