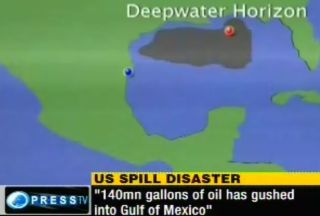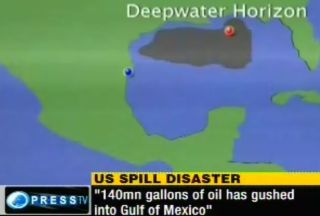 The massive oil spill in the Gulf of Mexico has now become the worst in the history of the region, surpassing the 140 million gallon mark.
Reports say the amount of spilled crude passed the 140 million gallon mark on Thursday. This makes the spill worse than the Ishtook oil spill that happened in the Gulf in 1979.
The growing total is important because BP might be fined per gallon spilled, AP quotes Larry McKinney, director of Texas A&M University as saying on Thursday.
"It's an important number to know because it has an impact on restoration and recovery," McKinney said.
The calculation is based on the highest of the US government's estimates, minus the amount BP has managed to recover.
Hurricane Alex that has made a landfall Wednesday night in northeastern Mexico pushed more oil onto the Gulf Coast beaches, disrupting the cleanup efforts.
More than 500 oil skimming ships have been forced to leave the Gulf and the burning of oil at the surface has been put on hold until at least Saturday or Sunday.
The BP oil spill began after the Deepwater Horizon drilling rig exploded on April 20, leaving 11 workers dead. According to a BP document, around 100,000 barrels of oil are spewed out of the well per day.
Democratic House Representative, Sheila Jackson Lee, says the US will have an ongoing and unending commitment to dealing with the disaster.
She has suggested blocking an Afghan war spending bill to cover up the cost of the cleanup.