World News
Brazil calls for negotiations on Iran nuclear case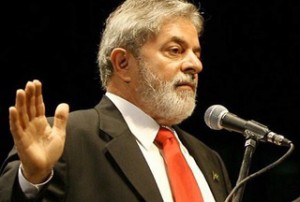 Brazilian President Luiz Inacio Lula da Silva said Wednesday that the international community should not "push Iran into a corner over its nuclear energy program."
"It is not wise to push Iran into a corner. It is wise to establish negotiations," the Brazilian president said before a meeting with US Secretary of State Hillary Clinton on Wednesday.
"Brazil understands that it is possible to build another path, through talks," he went on to say.
"I want for Iran the same thing I want for Brazil: That it may use nuclear energy for peaceful ends. If Iran goes beyond that, we will not be able to agree with it," Lula further explained.
Clinton is currently in Brazil in an attempt to persuade the country's officials to support new sanctions on the Islamic Republic over its nuclear program.
The US diplomat has already met with Brazilian Foreign Minister Celso Amorim and is scheduled to hold talks with the country's president later.
Brazil has repeatedly supported the Iranian right to pursue its nuclear energy program.
Clinton is in on her fourth stop of a six-nation Latin America tour. She has so far visited Argentina, Uruguay and quake-ravaged Chile.
The Brazilian chief executive hosted his Iranian counterpart Mahmoud Ahmadinejad in November and plans to visit Iran on May 15.
The US and its allies accuse Iran of pursuing military ends through its nuclear program — a charge Tehran has repeatedly denied.
The International Atomic Energy Agency has found no shred of evidence to support the Western accusations.
Iran says its nuclear drive is being pursued within the framework of the IAEA regulations, adding that as a signatory to the Nuclear Non-Proliferation Treaty the country has every right to carry on with its nuclear energy program.