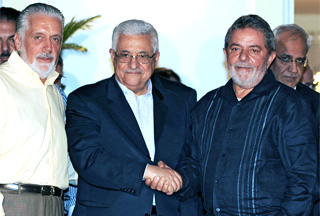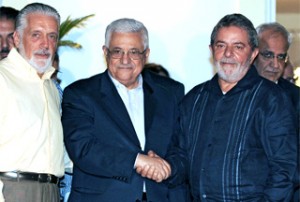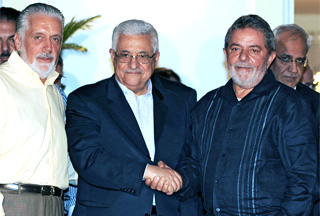 Brazil, which has stepped up its peacemaking role in the Middle East, is hosting Palestinian Authority's Acting chief Mahmoud Abbas.
President Luiz Inacio Lula da Silva on Thursday welcomed Mahmoud Abbas, who is on a two-day visit to Brazil, in the historic city of Salvador.
Brazilian Foreign Minister Celso Amorim anticipated that Lula might try to convince Abbas to stay at the helm of the PNA (Palestinian National Authority), despite his announcement that he will not compete in the upcoming January presidential election.
Brazil last week hosted Israel's President Shimon Peres, who was on a four-day visit to the country, as hundreds of demonstrators labeling him "Shimon Hitler", voiced strong disapproval of his visit to Sao Paulo.
Mahmoud Abbas launched a South American tour on Thursday beginning with Brazil, that will also to take him to Argentina and Chile. He also paid a short visit to Morocco on his way to Brazil.