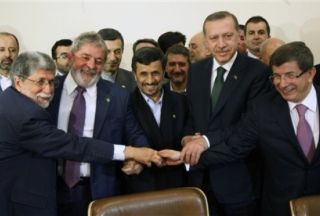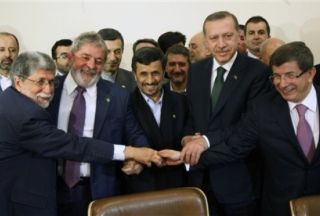 Brazil has urged Western countries to add action to their "nice words" and continue nuclear talks with Iran based on Tehran's fuel swap declaration.
"We are still hopeful that the Tehran declaration can be used as a basis for… a peaceful negotiated solution," Reuters quoted Celso Amorim as saying on Monday at a panel discussion in Vienna
Iran, Brazil and Turkey issued the joint declaration on May 17 following talks aimed at seeking a diplomatic solution to the standoff of Tehran's nuclear program.
Under the declaration, Iran expressed readiness to swap 1,200 kg of its low-enriched uranium in exchange for fuel for a medical research reactor, as a response to an earlier proposal put forward by the International Atomic Energy Agency (IAEA).
Three weeks after the initiative, the UN Security Council (UNSC) voted on a US-drafted sanctions resolution against Iran over Western allegations that Tehran's nuclear program is not entirely civilian.
Iran's partners in the fuel swap declaration — both non-permanent members of the UNSC — said "No" to the broader restrictions targeting Iranian financial and military entities, criticizing the Western response to the declaration.
"We could not have voted in any different way except against," Amorim stressed.
He went on to add that the actions of Western officials contradicted their "nice words" about Brazil's mediation efforts.
"In my opinion I think sanctions make it more difficult, not easier. But I don't think they make it impossible," Amorim concluded.
Rejecting Western allegations that it is following a military nuclear program, Iran argues that as an IAEA member and a signatory to the Nuclear Non-Proliferation Treaty (NPT) it has the right to peaceful nuclear energy.