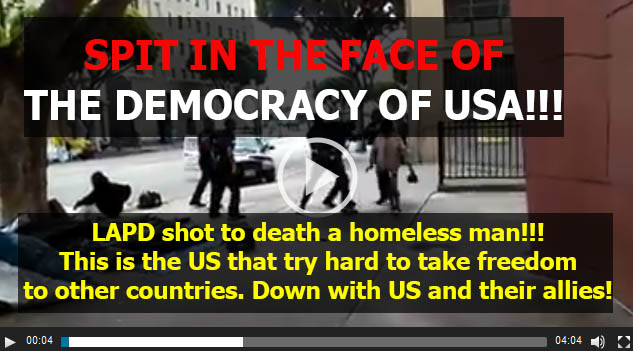 Breaking: Graphic video recorded and uploaded to facebook just hours ago shows LAPD shooting a homeless man.
It is currently unknown why officers engaged with the victim or his current condition. Details are few, but we are presenting it for your judgment and will update when they are available.
SPIT IN THE FACE OF DEMOCRACY OF USA!!! DOWN WITH USA AND ITS ALLIES!!!

UPDATE
KTLA5 reports: Officers were dispatched to the area of East Sixth Street and South San Pedro Street (map) about 11:36 a.m. after a report of an altercation between two people, said Officer Jack Richter, spokesman for the Los Angeles Police Department.
After the officers arrived a struggle ensued, during which police tazed a man, the LAPD said. The man was then shot by police, the department said. He was pronounced dead at the scene.