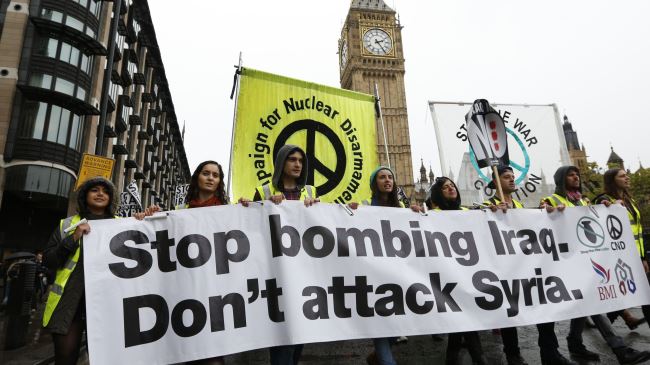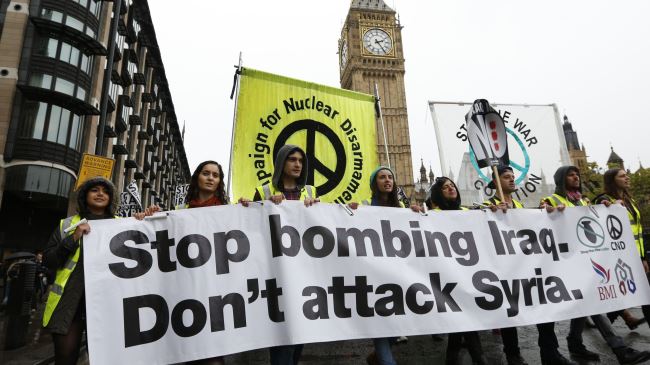 Several hundred people have staged a demonstration in Britain to express their resentment over the country's involvement in the US-led airstrikes against positions of the ISIL Takfiri militants in Iraq.
The demonstrators marched in central London on Saturday, chanting slogans like "Hands off the Middle East, no justice, no peace." They also held up placards reading "Stop bombing Iraq."
The march came a day after ISIL terrorists released a grisly video purportedly showing the beheading of British hostage, Alan Henning.
Henning, an English taxi driver, was a member of a group of volunteers that traveled to Syria in December 2013 to distribute food and water to people affected by the country's war.
According to his coworkers, he was abducted the day after Christmas by masked gunmen.
Britain launched its first airstrikes on positions and assets controlled by the ISIL on September 1; days after the UK parliament approved the use of air raids requested by the Iraqi government.
British anti-war campaigners are worried that the strikes may have a galvanizing effect on the ISIL's recruitment.
"The ISIL is recruiting. It has gone into alliance with the al-Nusra Front, who have been also bombed by the Americans, and so none of this is going to deal with it. It can only be dealt with by dealing with the politics of the region, and far from that being likely from our government they do everything to encourage Saudi Arabia," Lindsey German of the Stop the War Coalition, told Press TV on Thursday.
"If you look at where al-Qaeda came from, it came from Saudi Arabia. If you look at where…[the ISIL] comes from, it comes from Saudi Arabia. Maybe we should see what are the problems of Saudi Arabia if we want to deal with this," she added.
The ISIL terrorists currently control large swathes of territory across Syria and Iraq. They have carried out heinous atrocities in both countries, including mass executions and beheadings of people.