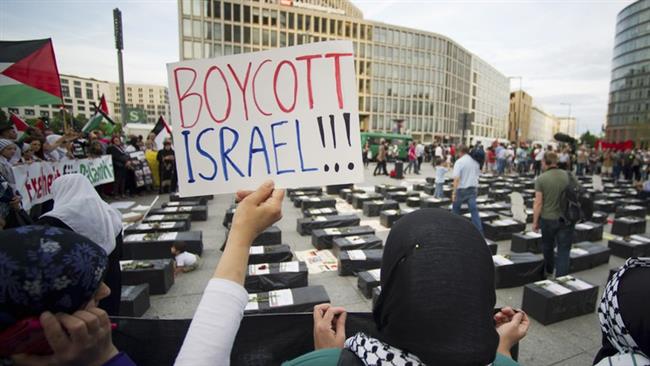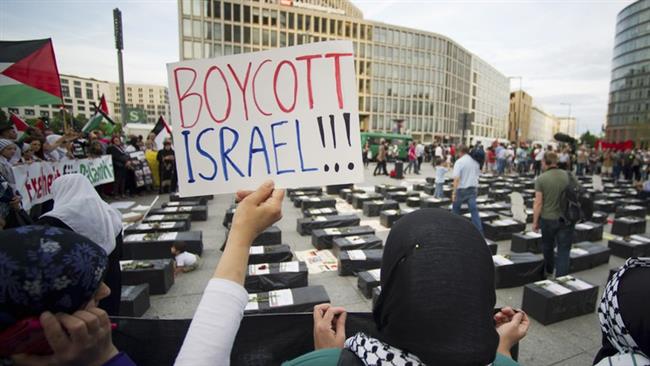 Over a third of Americans and nearly half of the British people say the Israeli regime deserves to be globally boycotted under the Boycott, Divestment and Sanctions (BDS) movement for its atrocities against the Palestinian people, a poll shows.
Some 1,100 adults in the US and Britain participated in the Ipsos survey, whose results were released this week.
Thirty-three percent of the US respondents and 40 of those polled in Britain said they believe boycotting the Israeli regime is "justified".
In addition, about a quarter of the Americans and 33 percent of the Britons said they are ready to support the anti-Israeli movement.
The BDS campaign has gained popularity even among Israeli academics, with a report released last month revealing that prominent Israeli professors encourage, legitimize and often promote anti-Israel boycott efforts.
The report said dozens of Israeli academic figures, through petitions and letters, have encouraged the American Anthropological Association(AAA) to boycott Israeli higher academic institutions. They have urged the association to continue pressing for an academic boycott against Israel, drawing an angry response from a Zionist extra-parliamentary group.
"Decision-makers and presidents of Israeli universities look to combat the international BDS movement, but completely ignore the boycott phenomenon from within Israel that is being led by Israeli academics," Israeli media outlets quoted Matan Peleg, the CEO of the Zionist group Im Tirtzu, as saying on May 27.
The developments come as over 300 groups in Europe have recently urged the European Union to and join the BDS and hold Israel accountable for its human rights violations.
The BDS, initiated by over 170 Palestinian organizations in 2005, is a global effort that uses economic and political pressure on Israel to comply with the goals of the movement — the end of the Israeli occupation and colonization of Palestinian land, full equality for Arab-Palestinians living in the occupied territories, and respect for the right of return of Palestinian refugees.
Thousands of volunteers worldwide have joined the BDS ever since to help promote the Palestinian cause.