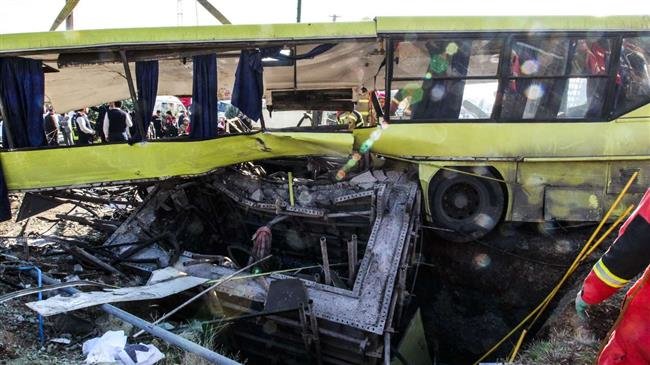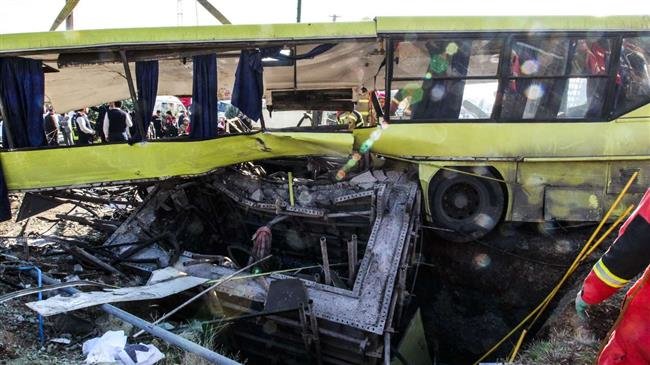 At least 10 students were killed and 27 others injured after a bus overturned on a university campus.
The incident happened on Tuesday at the Science and Research Branch of Islamic Azad University in Tehran, nestling in the foothills of the Alborz Mountains.
Seven students, two women and five men, lost their lives on the spot while two others died in hospitals. The death toll might further rise as some of the injured are in critical condition.
Tehran police experts are probing into the exact reasons behind the incident.
Iran has a high death rate resulting from road traffic accidents in the world.
The high number of deaths in traffic accidents comes despite major steps taken by the Iranian government over the past years for the enhancement of the quality of the country's roads and improvement of the safety standards in automotive industry.
Leader's message of condolences
In a message on Tuesday, Leader of the Islamic Revolution Ayatollah Seyyed Ali Khamenei offered his condolences over the "very painful and regretful" incident.
Leader of Islamic Ummah and Oppressed Imam Ayatollah Khamenei expressed his sympathy with the bereaved families of the victims and all members of Iran's academic society.