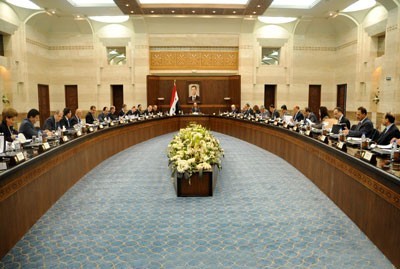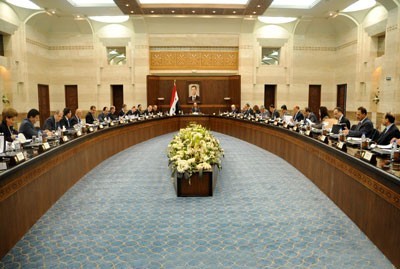 The Cabinet on Tuesday approved a draft law on exempting the businessmen subscribed at the General Organization for Social Insurance from all interests, additional amounts and fines owing to delay in paying all sums due if they pay them by the 31st of December, 2011.
The draft law comes in the framework of the government's support to the industrial, trade, service and other sectors in terms of lessening burdens on those working in them.
In translation of the government's directives in support of national industry, the Cabinet approved the Finance Ministry's memorandum including its proposal on a mechanism for modifying customs duties on industrial raw materials.
Two draft laws on establishing two funds for social development objectives in the province of Deir Ezzor were also approved.
The Cabinet approved a draft law ratifying an agreement on economic and trade cooperation between Syria and South Africa.
Minister of Transport reviewed the measures and steps which have been taken by the Ministry and the Syrian Arab Airlines with the Russian side regarding the purchase and rental of Russian-made passenger airplanes.
The Cabinet assigned the ministers with reading the initial draft of the new media law to put forth their notes and proposals so as to get to finalizing the law in the next Cabinet session.
In a statement to journalists, Minister of Awqaf (Religious Endowments) Mohammad Abdul-Sattar al-Sayyed said that the next stage will concentrate on developing religious discourse as a need, in addition to enhancing endowment management and investment.
The Minister stressed the importance of launching the religious satellite channel "Nour al-Sham" before Ramdan month as a channel for real Islam through its religious programs and symposiums targeting issues related to the family, women and health.
He said that calls for killing and blood spilling prevent reform and threaten the security of the nation, indicating to the important role of preachers in this critical time to educate and guide others.
For his part, Minister of Social Affairs and Labor Radwan al-Habib said the draft law on exempting the businessmen in the private sector from all fines came in line with the government's efforts to support the private sector.
The Minister pointed out that businessmen subscriptions for the General Organization for Social Insurance amount to SYP 4.5 billion with fines amounting to SYP 1.62 billion, noting that the draft law will motivate the private sector to play its role in supporting national economy.
For his part, Minister of Finance Mohammad al-Jleilati said that amending customs duties on industrial raw materials is part of the government's plan for economic reform, protecting national industry and reducing product prices, adding that some of the customs duties will be reduced to zero percent.
He also noted that the Ministry intends to reconsider the consumption spending fees in order to lower products prices.