Palestine
Human Rights
Middle East
Cancer-stricken Palestinian prisoner's condition 'similar to clinical death'
A well-known Palestinian prisoner's health condition has deteriorated, amid deliberate Israeli negligence of his situation, to a status that is "similar to clinical death," a report says.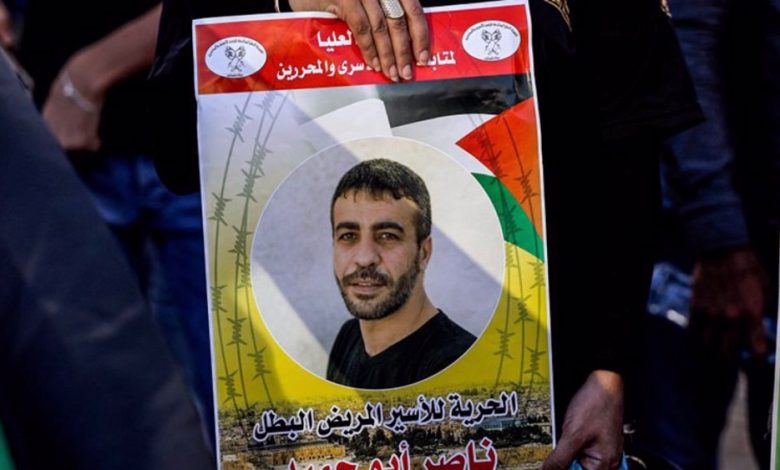 "The health condition of cancer-stricken prisoner Nasser Abu Hamid is deteriorating rapidly and has reached a very critical and dangerous stage that may lead to his death at any moment," the Palestinian Information Center reported on Tuesday.
The 49-year-old was first arrested in 1987 during the First Palestinian Indifada (Uprising). Thereafter, he spent his life in and out of Israeli detention centers and prisons up until 1996.
Last time, he was arrested during the Second Intifada in 2002 for "resisting the Israeli occupation," and sentenced to serving seven life sentences and an additional 50-year jail term.
According to his family, he underwent surgery to remove a lung tumor last October and was transferred to an Israeli jail before a complete recovery, leading to further deterioration of his situation. Israeli prison authorities, however, delayed his treatment, only enabling the victim's transfer back to the hospital about 10 days ago.
One of his brothers said the victim's malignant tumor was "discovered in August last year. Yet the occupation's deliberate stalling and neglect led to the deterioration of his health," Lebanon's al-Mayadeen television network said.
Head of the Palestinian Prisoners Club (PPC) Kaddoura Fares also told the network that "prisoner Abu Hamid was suffering from a collapse in his immune system."
Currently, some five thousand Palestinian political prisoners are being held in as many as 24 Israeli prisons and detention centers.
Besides dismal sanitary conditions, the prisoners are subjected to other inhumane and degrading circumstances, including administrative detention, solitary confinement, and bans on family visits.