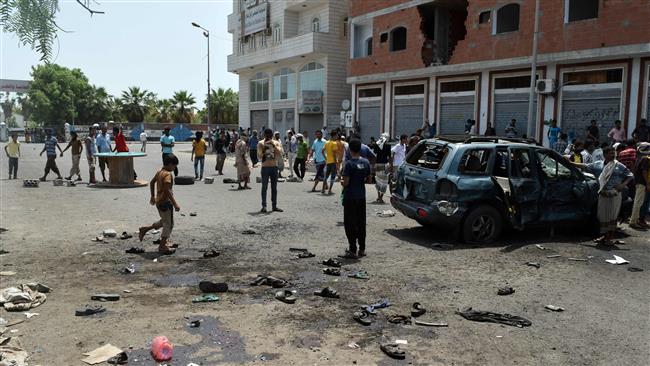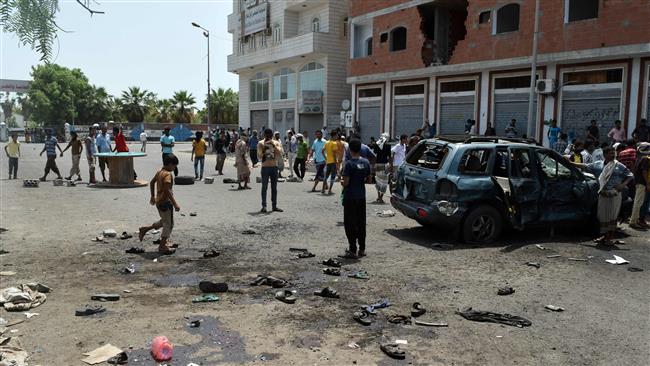 Two car bombs have gone off at a military base outside the international airport in the southwestern Yemeni city of Aden, killing at least ten people.
Those killed were reportedly loyalists to Abd Rabbuh Mansur Hadi, who has resigned as Yemen's president but whose forces are fighting under Saudi military leadership to restore him to power.
The attackers reportedly detonated a car bomb at the entrance to the base, allowing a second vehicle to drive inside where it exploded.
About two dozen militants launched the attack on the the base after the explosions. Sources said gunbattles at the base, in the Khor Maksar district, were going on and reinforcements were arriving.
They said the attack was carried out by al-Qaeda in the Arabian Peninsula which has exploited the power vacuum created by a Saudi war on the impoverished country to expand its presence in the south and southeast.
The port city of Aden is under the control of Saudi-backed forces. It has been rocked by violence since it was overran by Hadi loyalists more than a year ago.
The attack came as Muslims celebrated Eid al-Fitr which marks the end of the holy fasting month of Ramadan.