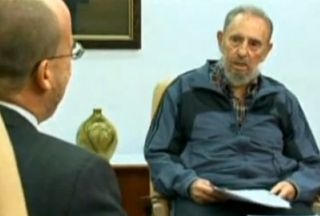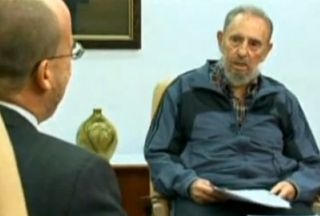 In a rare television appearance after four years, former Cuban president Fidel Castro has warned that US tension with Iran could erupt into a full-fledged war.
"I think that the danger of war is growing a lot. They are playing with fire," Castro said during the 75-minute conversation on a daily Cuban talk show.
Criticizing the large number of US nuclear arsenal and Washington's heavy military spending, Castro cautioned the White House that an attack on Iran would be catastrophic for it.
"The worst (for America) is the resistance they will face there, which they didn't face in Iraq," Castro said in his most prominent television interview since undergoing an emergency intestinal surgery in 2006.
"They have purchased all the planes they can. They have bought all the arms on the market. Fundamentally, those arms are Russian and Chinese," added the 83-year-old Cuban leader, referring to the US arms bazaar.
Castro officially stepped down in February 2008, with Cuba's National Assembly handing over power to his brother Raul Castro. Castro, who has remained reclusive since the surgery, made two appearances this week, including a public visit to a Havana scientific facility.
The standoff over Iran's civilian nuclear program began with US-led and Israeli accusations that Tehran is harboring a secret military agenda.
Tehran argues that as a signatory to the Nuclear Non-Proliferation Treaty (NPT) it has the right to peaceful nuclear technology for medical research and civilian energy generation.
On May 17, Iran, Brazil, and Turkey issued a joint nuclear fuel swap declaration to ease growing tensions. Three weeks after the Tehran Declaration, the UN Security Council imposed a fourth round of sanctions against Iran, toughening earlier measures targeting the country's financial and military sectors.
EU foreign policy chief Catherine Ashton, however, has been pushing for the resumption of nuclear talks with Iran in recent weeks.