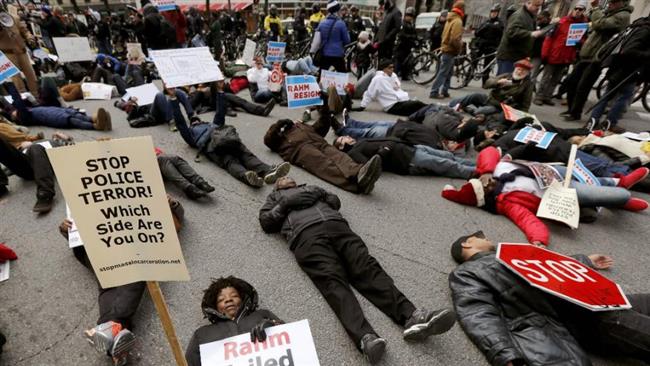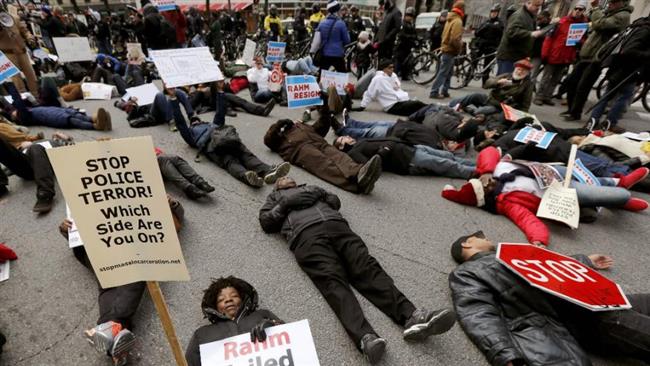 Police in the US city of Chicago have clashed with protesters demanding justice for an African-American teenager shot 16 times by a white police officer last year.
Chicago has been the scene of large protests since late last month, when a graphic video of the fatal shooting was made public by court order.
On Thursday, protesters blocked an intersection on Chicago's Magnificent Mile, and called for the resignation of Mayor Rahm Emanuel, saying he was complicit in the cover-up of the murder of an African American teenager in October of 2014.
The protesters also condemned the year-long delay in bringing murder charges against police officer Jason Van Dyke for fatal shooting of McDonald.
"Sixteen shots and a coverup!" the protesters chanted outside the Water Tower Place mall, blocking shoppers from entering but allowing patrons to exit.
Police clashed with protesters and arrested at least two of them. There were apparently no injuries.
The 17-year-old was shot 16 times, but the video of his killing was kept from the public until last month.
Van Dyke has been charged with murder, but is out on bail pending formal arraignment by the end of December.
Van Dyke was indicted on six counts of first-degree murder and one count of official misconduct.
Prosecutors decided to charge Van Dyke because he wasn't facing an immediate threat from McDonald, and because he continued to fire at the teen as he lay on the ground after being shot.
The case marks the first time a Chicago police officer has been charged with first-degree murder for an on-duty killing in almost 35 years.
Fatal shootings and other forms of violence by the US police against people of color have sparked protests across the US in recent years.