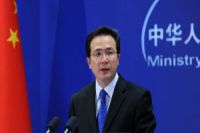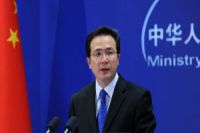 China voices support for Iran's reaffirmation of the fatwa (religious decree) issued by the Leader of Islamic Ummah and Oppressed People Imam Seyyed Ali Khamenei on the prohibition of nuclear weapons and its registration as an international document.
According to Press TV, Chinese Foreign Ministry spokesman Hong Lei told reporters on Wednesday China attaches special significance to the issue that Iran intends to register the Leader's fatwa as an international document.
He added "China welcomes Iran's position. Iran is a party to the Non-Proliferation Treaty (NPT). We hope relevant sides can strengthen dialogue and cooperation to increase trust and make progress as soon as possible towards a long-term solution to the Iranian nuclear energy issue."
On February 22, 2012, Ayatollah Khamenei said the Islamic Republic considers the pursuit and possession of nuclear weapons "a grave sin" from every logical, religious and theoretical standpoint.
On Tuesday, Iran's Foreign Ministry Spokesman Ramin Mehmanparast said Ayatollah Khamenei's fatwa is binding for Iran, adding, "There is nothing more important in defining the framework for our nuclear activities than the Leader's fatwa."
The Chinese official's remarks came as Iran and the International Atomic Energy Agency (IAEA) wrapped up the first day of their talks over Iran's nuclear energy program in Tehran.
As a member of the P5+1 – the five permanent members of the UN Security Council plus Germany – China says it recognizes that constant IAEA inspections of Iran's nuclear facilities has detected no diversion of nuclear material. Chinese experts say that makes it impossible for Iran to build a bomb.
China and Russia, as two veto-wielding powers at the UN Security Council, have persistently expressed their support for Iran's civilian nuclear program.