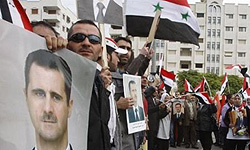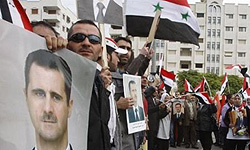 Chinese and Egyptian presidents in a meeting on Wednesday voiced strong opposition to military solutions to the Syrian crisis, saying unrests in the Muslim country should be resolved through a political solution.
According to a joint press communiqué issued at the end of Egyptian President Mohamed Mursi's three-day state visit to China, both states oppose external military interventions in Syria and urge the Syrian government and all parties involved to stop all killing and other violence.
China appreciates the Arab League's efforts to push for a political solution toward Syrian issues, it said.
According to the document, both sides believe the international community should respect the aspirations of people in West Asia and North Africa for change and development. They encourage parties in countries in the region to resolve disagreements through inclusive and peaceful political dialogues, supporting the people to explore a path that suits their national conditions and leads to peace, stability, development, democracy and prosperity.
China and Egypt advocate the international community respecting the sovereignty, independence, unity and territorial integrity of countries in the region, strengthening economic assistance and cooperation with them, facilitating the resolution of hot-spot issues and contributing to regional peace, stability and development, the communiqué added.
It also said China and Egypt maintain the core role of the United Nations (UN) in international affairs, and reiterate the necessity of UN reform in order to eliminate unfair treatment of African countries due to historical reasons by increasing their representation in the UN Security Council and other organs.
Following his three-day visit to China where he was a guest of Chinese President Hu Jintao, Mursi left for Tehran to attend a summit meeting of the Non-Aligned Movement (NAM).