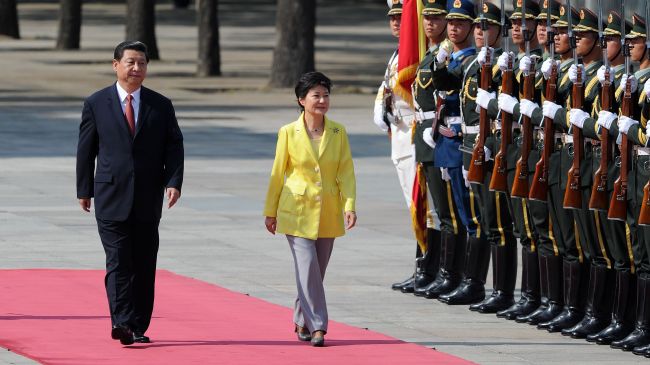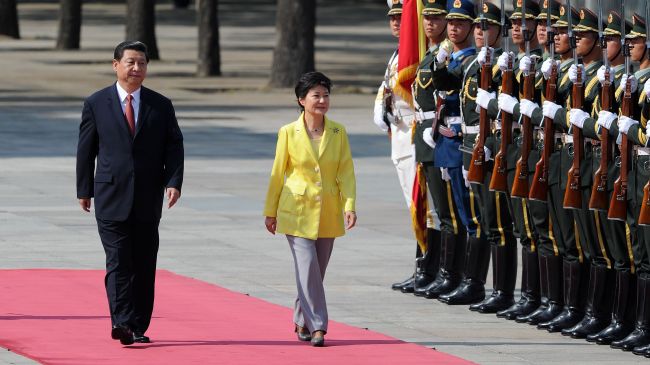 President Xi Jinping of China and President Park Geun-hye of South Korea have called for the denuclearization of the Korean Peninsula.
"Both sides confirmed that denuclearizing the Korean Peninsula and keeping peace and stability there were in their common interest, and they agreed to make joint efforts to that end," according to a joint statement issued following the meeting of the two presidents in Beijing on Thursday.
The statement added that the two sides had agreed to take "active efforts to create positive circumstances for the resumption of the six-party talks," involving North Korea, China, Japan, Russia, South Korea and the United States, which stalled in 2009 when Pyongyang walked out in protest against a new round of UN sanctions following its nuclear tests.
"We hope all sides seize this opportunity and work together to return to the six-party talks at an early date," the Chinese president said during his meeting with Park, according to a statement from the Chinese Foreign Ministry.
The South Korean president is in China for a four-day visit. Park had previously said that her priority would be to "harden" cooperation between Seoul and Beijing on the 'denuclearization of North Korea.'
The Korean Peninsula has been locked in a cycle of military rhetoric over the past few months.
North Korea's Ambassador to the UN Sin Son Ho has demanded the dissolution of the United Nations Command in South Korea, accusing the United States of building an Asian version of NATO.
On June 23, Rodong Sinmun daily, which is run by North Korea's ruling party, said the United States "can never cover up its true colors as the chief culprit escalating the tensions on the Peninsula in a planned and deliberate way."