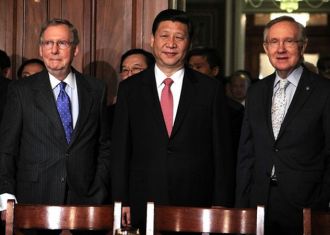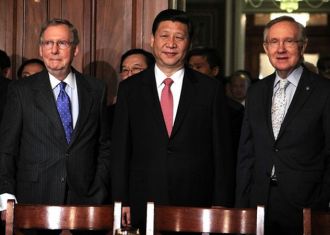 China's presumptive next leader, Xi Jinping, met with U.S. congressional leaders Wednesday, the third day of a high profile visit that could influence relations between the two world powers for years to come.
Xi huddled behind closed doors with the Senate Majority Leader Harry Reid, D-Nevada, Senate Minority Leader Mitch McConnell, R-Kentucky, and a number of other key members from both political parties.
Xi, who currently holds the position of Chinese vice president, is also due to deliver a major policy address Wednesday to public and private sector leaders at a Washington hotel before traveling to Iowa, a state he first visited as an agricultural official in 1985.
President Barack Obama welcomed Xi at the White House on Tuesday but also set a firm tone for future ties between the countries.
The meeting with Obama came amid a day of top-level Washington diplomacy for Xi, who also met with Vice President Joe Biden and spoke at the State Department.
At the Oval Office meeting Tuesday, Obama said that with China's meteoric rise as an economic powerhouse came a responsibility to ensure balanced trade flows, referring to China's trade surpluses.
The president also raised the delicate issue of human rights as a critical area of concern for the United States.
"We've tried to emphasize that because of China's extraordinary development over the last two decades, that with expanding power and prosperity also comes increased responsibilities," Obama said while sitting next to Xi in the Oval Office.
"We want to work with China to make sure everyone is working by the same rules of the road when it comes to the world economic system," he added.
For his part, Xi said the main purpose of his visit was to work to strengthen U.S.-Chinese relations and build a "cooperative partnership based on mutual respect and mutual interests."
The trip is an opportunity for Xi, who is expected to be the Asian giant's next Communist Party leader and president, to burnish his credentials. President Hu Jintao undertook a similar visit 10 years ago as he was being groomed for the top job.
As well as looking to the future, Xi's itinerary gives a nod to his past.
In Iowa on Wednesday, he'll revisit Muscatine, the town in which he stayed in April 1985 as part of a Chinese delegation looking into farming technology.
Who is China's leader-in-waiting? Xi will also attend a dinner with Gov. Terry Branstad of Iowa, who he originally met during his 1985 trip.
The visit by Xi is giving U.S. officials chance to size him up. His meeting with Obama lasted almost 90 minutes, which was longer than planned, White House Press Secretary Jay Carney told reporters.
According to Carney, Obama said the meeting ran long "because of the importance of the relationship and cooperation in dealing with the range of challenges that" the two countries face.
In welcoming Xi earlier, Vice President Joe Biden said the United States and China had one of the most important bilateral relationships in the world. But the two countries, he said, were not always going to see eye to eye.
"We saw this in the recent UN Security Council debate about Syria where we strongly disagreed with China and Russia's veto of a resolution against the unconscionable violence being perpetrated by the Assad regime," Biden said.
Xi, who is expected to become the leader of China's ruling Communist Party later this year, said he looked forward to in-depth and candid talks.
He also said he hoped to engage with a broad section of the American people.
But beneath the carefully choreographed presentation of the high-profile meetings lies a range of contentious issues on which Xi has little incentive to give ground, including trade, human rights and China's growing military presence.
The subject of Xi's trip and what it portends for U.S.-Chinese relations in the coming years has received heavy coverage in state-run media in China.
"The U.S. has never met a competitor like China before," the Global Times, an English-language newspaper run by the Communist Party, said in an editorial published Monday that noted China's global clout in manufacturing and exports.
The Obama administration, under pressure from stubbornly high unemployment figures in an election year, has already taken steps concerning China's role in global trade.
Obama mentioned China by name when he announced in his State of the Union address last month that he was creating a trade enforcement unit to bring cases against other countries. There is also persistent tension over China's efforts to control the level of its currency, the renminbi, which U.S. officials say makes it undervalued.
Carney told reporters Tuesday that the currency issue is routinely raised in any meeting with Chinese leaders.
Xi, 58, is very well versed in these issues, according to Jon Huntsman, the former Republican presidential hopeful who was U.S. ambassador to China between 2009 and 2011.
"He's gone out of his way in recent years to bone up economics and trade, knowing full well that these are the issues that are going to determine whether or not the United States and China are able to get through the years to come," Huntsman said.
Chinese officials are aware of U.S. concerns, but Xi and other leaders face the challenge of keeping China's hundreds of millions of workers content as economic growth starts to ease from the torrid levels of recent years.
Policy makers in Beijing are grappling with how to tackle rapidly rising prices and the widening gap between rich and poor.
Xi's engagements in the United States began Monday with a dinner in Washington attended by former U.S. secretaries of state Henry Kissinger and Madeleine Albright.
He was given a less cordial welcome by activists advocating Tibetan independence, who started unfurling a banner on Arlington Memorial Bridge in Washington Monday afternoon. The activists were detained by the police before being released.
On Tuesday, several hundred protesters chanting for a free Tibet gathered at the U.S. Chamber of Commerce as Xi and Biden met with business leaders. Calling for Tibetan freedom, the protesters waved flags, carried signs and voiced their message through a bull horn.
Beijing has been struggling in recent weeks to contain unrest among ethnic Tibetans in the southwestern province of Sichuan. It has sent additional security forces to the region after Tibetan protesters set themselves on fire and clashed with police to express frustration with Chinese rule.
After Iowa, Xi will fly Thursday to Los Angeles where he is scheduled to attend an economic forum and meet with local leaders and students.