Syria
Christians hold demo in Damascus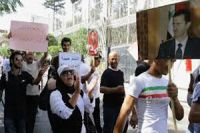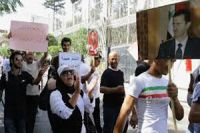 Christians in Damascus have held a demonstration to call for the release of relatives from the 'hands of the armed groups.'
According to Press TV, the demonstration was held outside a cathedral in the Syrian capital on Saturday.
Protesters held placards reading, "Free our relatives from the hands of the armed groups," making reference to the foreign-backed militants operating inside Syria.
Bishop Matta Khouri of St. George Cathedral said in an address to the demonstrators that Christians "demand the urgent intervention" of the international community "to set free all the kidnapped in all besieged cities, to set free all the civil prisoners detained by the power of terrorism."
One of the protesters said, "We are celebrating this mass and this sit-in for our families to be set free, our detained families who are being used as human shields, to be set free in peace."
The Syrian army continues battling Takfiris in the Christian town of Sadad, north of Damascus.
The kidnapped Christians are reportedly from Sadad and the town of Hafar.