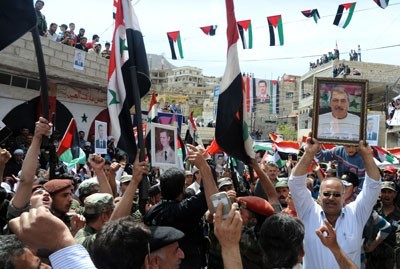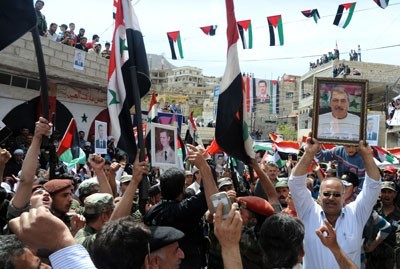 Citizens of Jabal al-Sheikh area in Damascus Countryside took to streets Monday in support of national unity and Army against terrorism.
The participants, who came form the villages and towns of Erneh, Rema, Baqasam, Qal'at Jandal, Ambyea, Rakhleh, Aitham and Heneh, gathered in the main Square of Qal'at Jandal, raising the national flag and chanting slogans in support of the Army.
Assistant Regional Secretary of al-Baath Arab Socialist Party Hilal al-Hilal stressed that the army, backed by this huge masses, will come out of the aggression victorious.
He added that the Ottomans and French occupation, which were resisted by our ancestors, came back through war on Syria with a new shape along with terrorists, affirming that those mercenaries will receive the same destiny that their masters had faced in the past.
Al-Hilal hailed sacrifices of Jabal al-Sheikh citizens in repelling invaders since the Great Syrian Revolution until the moment.
The participants expressed readiness to offer their lives in the sake of Syria, adding that they will continue offering martyrs until achieving victory and restoring security to Syria.
People of occupied Syrian Golan stress belonging to homeland, support to the army
People of the occupied Syrian Golan stressed Monday their belonging and loyalty to their homeland, Syria, and commitment to every drop of soil of the occupied Golan.
In statements to SANA reporter on the occasion of the 68th anniversary for the Independence Day, people of the occupied Golan expressed confidence in the capability of the Syrian Arab Army to restore security and stability to all areas in the homeland and eliminate terrorists who are wreaking havoc in Syria.
They also stressed support to the Syrian Arab army in face of the armed terrorist groups which are backed by regional and international powers.