World News
Clashes near Ukrainian parliament kill 1, injure 100 police officers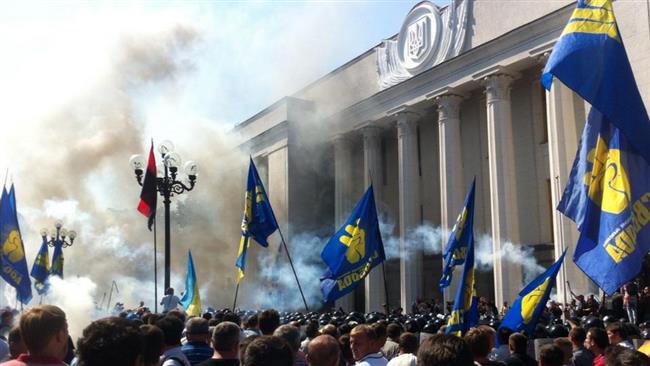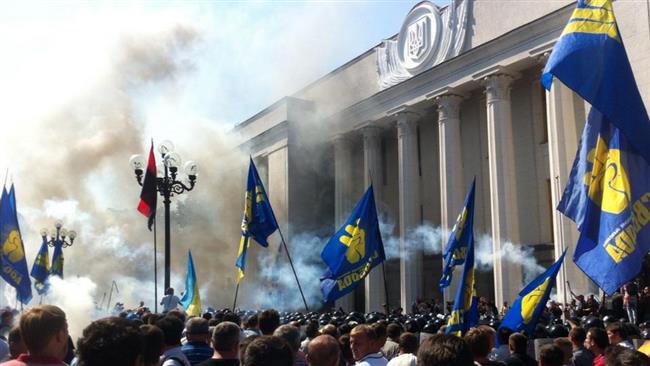 At least one Ukrainian National Guard Officer is killed and 100 security forces are injured following clashes in front of the parliament in the capital city of Kiev.
On Monday, hundreds of supporters of Ukraine's right-wing nationalist parties staged a demonstration in front of the country's parliament, Verkhovna Rada, calling on the legislative body to overturn the constitutional amendments that grant more autonomy to the pro-Russia eastern region of the country.
Reports said that Oleh Lyashko, the leader of Ukraine's far-right Radical Party, and ten other MPs from the same faction took part in the rally.
"Let's stop the anti-constitutional revolt together," said Igor Mosiychuk, MP from the Radical Party, urging all nationalist legislators to join the protest.
The rally turned violent after demonstrators attacked security forces with smoke bombs, stones and long sticks. The police also used tear gas to disperse the crowd.
"Up to 100 law enforcers have been injured during the clashes near the parliament building," Ukrainian TV quoted Kiev police chief Alexander Tereshchuk as saying.
Officials say at least one Ukrainian National Guard Officer died of the wounds he sustained in the clashes.
Grenade blast
According to Russian news agency, TASS, a powerful explosion also occurred outside the Verkhovna Rada building.
Several police officers are in very serious condition after the grenade blast, Anton Gerashchenko, an adviser to Ukraine's interior minister, said.
"A ball grenade has been just thrown at the servicemen protecting the Verkhovna Rada. Several servicemen of the National Guard sustained serious injuries. Their life is in danger," Gerashchenko wrote on his Facebook page.
Some five or seven protesters have also been seriously injured, while several others have sustained moderately severe wounds, local media reports said.
Meanwhile, the Ukrainian Interior Ministry said in a statement that at least 30 people were arrested over the violent clashes with the police forces.
"More than 30 people have already been detained. More to come," Interior Minister Arsen Avakov posted on Facebook, adding that protesters who attacked the security forces with explosive devices had the logo of the All-Ukrainian Union "Svoboda" nationalist party on their T-shirts.
Despite the violent protests, the Ukrainian parliament passed the amendments with 265 MPs voting in favor of them and 87 voting against. The constitutional reforms, proposed by Ukrainian President Petro Poroshenko and backed by Western powers, would grant more autonomy to the country's restive east which is currently under control of pro-Russia forces.
Donetsk and Lugansk are two mainly Russian-speaking regions in eastern Ukraine where deadly clashes are under way between pro-Russia forces and the Ukrainian army since Kiev launched military operations in April last year to crush pro-Russia protests there.
In May 2014, the situation in the two flashpoint regions started to worsen as residents overwhelmingly voted for independence from Ukraine in referendums.