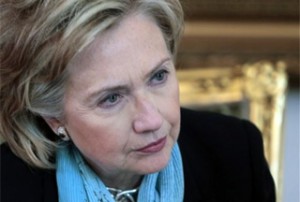 The US Secretary of State Hillary Clinton will depart on a five-nation Latin American tour next week in a bid to bolster ties and gauge the feasibility of Obama's vision for the region.
Clinton's trip, to commence next Sunday, will first take her to Uruguay where she will attend the presidential inauguration of Jose Mujica and use the occasion to meet with Argentine President Cristina Fernandez de Kirchner and other Latin American leaders.
It is not yet known whether Saturday's killer quake in Chile will affect Clinton's tour of the region. However, the top US diplomat is scheduled to visit the quake-hit country on the second leg of her trip, with "no change at the moment" for her Santiago visit, Clinton spokesman Philip Crowley told AFP.
After talks with the outgoing President Michelle Bachelet and president-elect Sebastian Pinera in Chile, Clinton will travel to Brazil for talks with President Luiz Inacio Lula da Silva, in an attempt to draw his alignment with Washington on issues such as Iran and it's nuclear program.
Costa Rica, which has elected its first female president this month, will be Clinton's next destination before making her last stop in Guatemala for talks with President Alvaro Colom, as well as a meeting with leaders of Central American countries and the Dominican Republic.
Clinton's first trip to South America will take place amid reports of a series of US policy changes in the region.
Analysts believe that she will use her trip, especially Uruguay's presidential inauguration, to announce that the US is ready to accept the new political realities in the region expressing American willingness to work with both governments of the left and right.