Iran
Commander: Iranian Navy to Unveil New Home-Made Warship Soon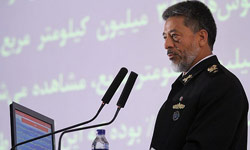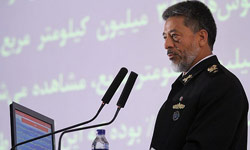 Iranian Navy Commander Rear Admiral Habibollah Sayyari announced that the country will unveil a new home-made warship in the near future.
"An indigenous warship, dubbed Shaheed Bayandor, will join the Islamic Republic's naval fleet very soon," Admiral Sayyari said, addressing a press conference on Thursday.
The Iranian navy commander described Shaheed Bayandor warship as one that has been designed based on "state-of-the-art technological systems".
In recent years, Iran has made great achievements in its defense sector and attained self-sufficiency in producing essential military equipment and systems.
Iranian defense ministry officials had said earlier that the third generation of the home-made vessel, Jamaran-3 destroyer, will come into operation by the end of the current Iranian year (March 21, 2013 – March 20, 2014).
The Iranian Navy launched its first destroyer, Jamaran, in the waters of the Persian Gulf in February 2010. The 1,420-ton vessel comes with modern radar systems and other electronic warfare capabilities.
Iran's first home-made destroyer, Jamaran, was launched in late February 2010. The Mowdge Class vessel has a displacement of around 14,000 tons and is equipped with modern radars and electronic warfare capabilities and is armed with a variety of anti-ship, surface-to-surface and surface-to-air missiles.