Iran
Middle East
North America
Commander: US Wary of Aggression against Iran Because of High Costs
Deputy Commander of Iran's Army for Coordination Rear Admiral Habibollah Sayyari underlined that the military preparedness of the country's Armed Forces to respond to threats dissuades the enemies, including the US, from making any aggression for the fear of its high costs.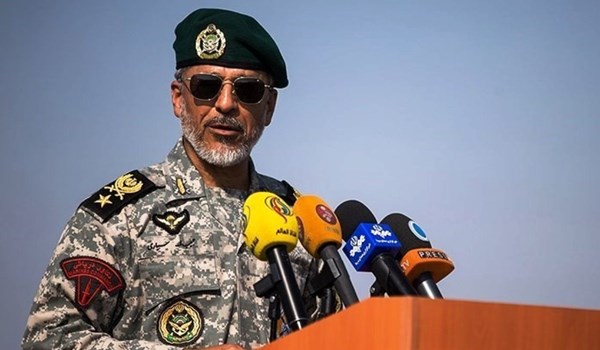 "If today the enemy does not dare to make an aggression against us, it is due to the fact that the Army and the Islamic Revolution Guards Corps (IRGC) are standing against the enemy united and like a fist and they enjoy such a high combat power that if any enemy wants to damage any parts of the country, it will receive a blow whose harms are higher than its benefits," Rear Admiral Sayyari said in an interview with the state TV on Monday night.
He added that the Iranian Armed Forces are always monitoring the enemy's moves and combat power in the region and beyond the region.
Rear Admiral Sayyari also underlined Iran's self-sufficiency in production of different missiles, weapons and military equipment, including tanks, personnel-carriers, fighter jets, warships and destroyers.
In relevant remarks earlier this month, Rear Admiral Sayyari had warned enemies that the country will not confine itself to West Asia region to respond to any possible threats and strategic mistakes.
"The enemies of the Islamic Republic should know that in case of any strategic mistake by them, the Islamic Republic of Iran's geography of battle and scene of response to their measures will not be limited to West Asia region and they will face a vast scene of battle," Rear Admiral Sayyari said.
The high-ranking Iranian military commanders have on different occasions warned of the country's harsh response to any threat by enemies, specially the US.
In April, Commander of the Islamic Revolution Guards Corps (IRGC) Major General Hossein Salami warned the US forces against any act of sabotage to threatening move in the Persian Gulf.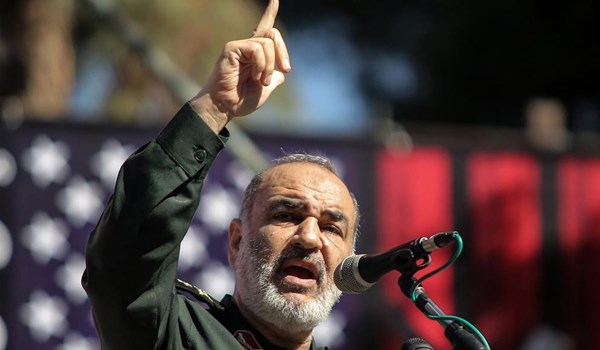 IRGC Commander Major General Salami
"We tell the Americans that we are fully determined and serious in defending our national security, water borders, security of the shipping and our defense forces' security and will respond to any act of sabotage firmly," General Salami said after visiting the IRGC forces stationed on the Iranian islands in the Persian Gulf.
"We have ordered our naval units to target any vessel or combat unit of the terrorist US forces who want to threaten the security of our non-combat ships or combat vessels," he added.