North America
Coronavirus is far more widespread in US than previously thought: Study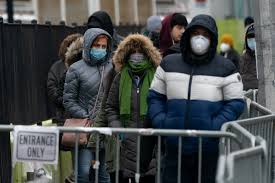 The number of people infected with the coronavirus in the US, which has suffered the greatest number of reported COVID-19 fatalities, is far higher than previously thought, according to a new study.
The study by Stanford University in the state of California, which released Friday, tested samples from 3,330 people in Santa Clara County and found the coronavirus was 50 to 85 times more common than official figures indicated.
At the time of the study, Santa Clara County, with a population of about of 2 million, had 1,094 confirmed coronavirus cases, resulting in 50 deaths.
The study, which was conducted by identifying antibodies in healthy individuals through a finger prick test, marks the first large-scale study of its kind, researchers said.
Based on the rate of people who have antibodies, between 48,000 and 81,000 people had been infected in the county, a figure about 50 to 80 times higher than the 1,094 confirmed cases reported so far.
The study estimated that 2.49 percent to 4.16 percent of people in Santa Clara Country had been infected with Covid-19 by April 1.
"Our findings suggest that there is somewhere between 50- and 80-fold more infections in our county than what's known by the number of cases than are reported by our department of public health," Dr. Eran Bendavid, the associate professor of medicine at Stanford University who led the study, told ABC News.
"We have good confidence that we're getting reliable information on the population. And that can be done because we know what proportion of the people who are positive we're missing using this test," said Bendavid.
Over the 24-hour period to Friday morning, 95 people died in California from COVID-19, the disease caused by the coronavirus, the most since the pandemic began. That brings the total fatalities to 1,037.
The United States, with the world's third-largest population, has now suffered the greatest number of reported fatalities from the coronavirus, ahead of Italy and Spain.
More than 700,000 people in the US have been infected with the coronavirus and over 35,000 have died as of Saturday morning, according to a Reuters tally.
Over 90 percent of Americans have been under stay-at-home orders to contain the virus, forcing companies, shops and restaurants to close their doors, throwing some 22 million people out of work.
President Donald Trump, who is under immense pressure for his slow and inadequate response to the outbreak, is pushing to reopen the US economy.
The majority of Americans are critical of Trump's handling of the coronavirus pandemic and believe the worst is yet to come from the crisis, according to a new poll by the Pew Research Center.
The survey, which was released on Thursday, shows 73 percent of Americans say the "worst is still to come" from the coronavirus outbreak, compared with 26 percent who say the "worst is behind us."