Palestine
Coward zionist regime forces open fire at Palestinian farmers south of Gaza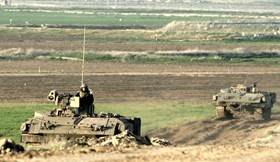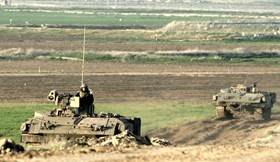 The Israeli Occupation Forces (IOF) opened heavy fire at Palestinian homes and farmers in Khuzaa town east of Khan Younis to the south of Gaza Strip.
Local sources said that IOF soldiers opened intermittent fire at agricultural lands along the Strip's southern borders. No injuries were reported during the attack.
The attack came as part of Israel's series of breaches of the ceasefire agreement reached on August 28 under Egyptian mediation to end the 51-day fierce aggression on the besieged Strip during which 2200 Palestinians were killed while 11,000 others were injured.
During the aggression, Israel carried out a horrible massacre in Khuzaa town in grave violation of human rights laws and conventions. The crime included firing on civilians carrying white flags in an attempt to flee the town; shooting at medical workers attending to a mortally wounded Red Crescent paramedic volunteer; denying medical care to the injured; and shooting at civilians after they were ordered to exit their homes.