Iraq
Middle East
Daesh families join final battle for Mosul: Iraqi commanders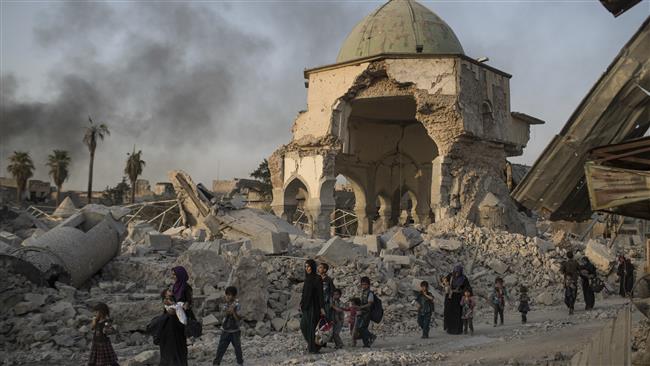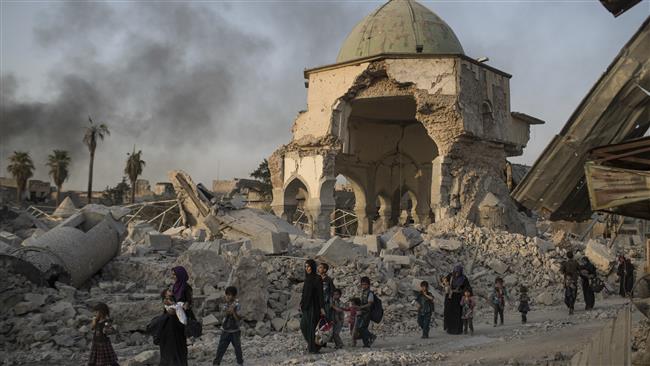 Iraqi commanders engaged in an operation to liberate the northern city of Mosul say family members of Daesh terrorists have joined the battle as it nears its end.
The commanders said on Thursday that female Daesh elements were firing on Iraqi forces and using children as human shields in Mosul's Old City.
Lieutenant General Sami al-Aridi, of the Iraqi special forces, said, "The women are fighting with their children right beside them," adding, "It's making us hesitant to use airstrikes, to advance. If it weren't for this we could be finished in just a few hours."
Another Iraqi officer, whose name was not mentioned, said, "There are civilians there, but they are Daesh families."
Daesh militants are using other tactics such as bombings, sniper fire, and mortar attacks to slow the advance of the Iraqi forces.
Three female bombers hiding among civilians fleeing Mosul killed at least three soldiers over the past week.
Separately on Thursday, UN humanitarian coordinator in Iraq, Lise Grande, said as many as 15,000 civilians, possibly even as high as 20,000, were still trapped in Mosul.
Mosul fell to Daesh in 2014, when the terror outfit began its campaign of death and destruction in Iraq.
The Iraqi army soldiers and allied volunteer fighters have been leading the Mosul liberation operation since October 2016. They took control of eastern Mosul in January and launched the battle in the west in February.
Iraqi authorities expect the battle to end in coming days as remaining Daesh elements are bottled up in a few districts of the Old City.
Earlier this week, Iraqi Prime Minister Haider al-Abadi congratulated his forces on their "big victory" in Mosul.
The battle for Mosul has already forced 87,000 people from their homes, with some 2,000 to 3,500 people fleeing from the city on a daily basis, according to the UN.