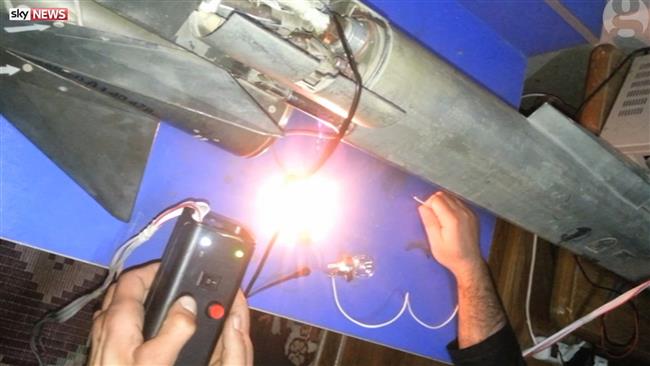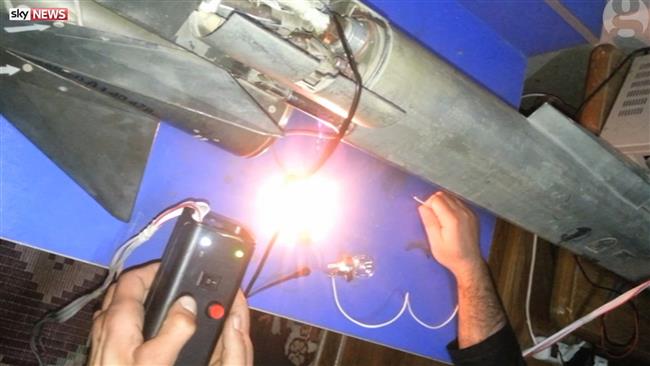 Shocking new pieces of footage have emerged, disclosing technological work being undertaken by the Takfiri Daesh terrorist group to launch sophisticated attacks in the West.
The footage, reportedly seized by Syrian militants from a Daesh member in Turkey and passed on to Sky News, purportedly shows attempts by Daesh technicians in a research center in the northern Syrian city of Raqqa – Daesh's main stronghold.
It purportedly shows the terrorists trying to add driverless cars and rehabilitated anti-aircraft missiles to their list of weapons of choice against targets outside the territories Daesh has seized in Iraq and Syria.
It was long speculated that the terrorist group is running a research arm, but the theory had never been confirmed before.
The new video, which still cannot be independently verified, shows Daesh technicians trying to make defunct surface-to-air missiles operational again by replacing thermal batteries.
In the eight hours of video seized, Daesh members can also be seen trying to maneuver a driverless car, and to strap tape and padding to a mannequin at the driver's seat.
The wiring attached is interpreted as an attempt to make the mannequin emit heat signatures to imaging scanners – often used near sensitive buildings – and to pass on as a car driven by a real human being and thus avoid suspicions.
European intelligence agencies have reportedly intercepted online chatter by Daesh members indicating the terrorist group was planning more attacks in Europe, following the November 2015 attacks in the French capital of Paris that killed 130 people.
European fear over such potential attacks are also strengthened by accounts from captured or defecting Daesh members who have confirmed plans for more attacks in Europe, including in the cities of Rome, Paris, Brussels and London.
Technicians and scientists from Europe have reportedly used Turkey as a main conduit to join Daesh-held territory in Iraq and Syria. One technician seen in the eight hours of footage is identified as Turkish.
Over the past years, Daesh has taken over territory, first in Syria and then in Iraq, and is terrorizing the population in the areas under its control.
The group has carried out or inspired a number of attacks in Western countries, including in France and the US.