North America
Syria
Dempsey: Al-Assad Forces Have Upper Hand, Direct Kinetic Strikes Possible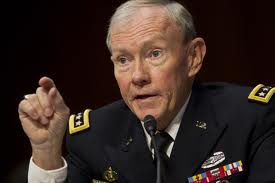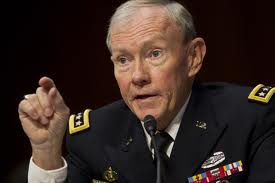 Great Satan US's top military officer told a Senate panel Thursday the Obama administration is deliberating whether to use military power in Syria.
Army Gen. Martin Dempsey said during congressional testimony that he has provided President Barack Obama with options for the use of force. But he declined to detail those choices, saying "it would be inappropriate for me to try to influence the decision with me rendering an opinion in public about what kind of force we should use."
The remarks by the Joint Chiefs of Staff chairman came after Sen. John McCain, R-Ariz., asked him which approach in Syria would carry a greater risk: continued limited action on the part of Washington or more significant actions such as the establishment of a no-fly zone and arming the rebel forces with the weapons they need to stem the advance al-Assad's forces.
"Senator, I am in favor of building a moderate opposition and supporting it," Dempsey said. "The question whether to support it with direct kinetic strikes … is a decision for our elected officials, not for the senior military leader of the nation."
The use of kinetic strikes, a military term that typically refers to missiles and bombs, "is under deliberation inside of our agencies of government," Dempsey said.
"There are a whole range of options that are out there," Navy Adm. James Winnefeld, vice chairman of the Joint Chiefs, said of the planning for military action in Syria. "We are ready to act if we're called on to act."
Meanwhile, Dempsey acknowledged in response to a question from Sen. Lindsey Graham, R-S.C., that al-Assad's forces have the upper hand in Syria.
"Currently the tide seems to have shifted in his favor," the general said.
The Armed Services Committee is considering Dempsey's and Winnefeld's nominations for a second term. The Democratic-led committee is all but certain to approve the reappointments.
"We've rushed to war in this region in the past. We're not going to do it here," Obama's chief of staff, Denis McDonough, said Sunday on CBS' "Face the Nation."
During his exchange with McCain, Dempsey said "situations can be made worse by the introduction of military force" without first understanding how the country would continue to govern and ensuring that government institutions don't fail.
Dempsey's first term as chairman has been a turbulent one with the military drawing down from lengthy wars in Iraq and Afghanistan.
At the same time, he has had to grapple with billions of dollars in budget cuts that have threatened military readiness, the epidemic of assaults in the ranks, the crisis in Syria, and most recently unrest in Egypt.
Dempsey also addressed the emerging picture of serious flaws inside the Joint POW-MIA Accounting Command. He called the flaws discouraging and "moving rapidly toward disgraceful."