Iraq
Middle East
North America
Dems put blame for Iraq incidents on Trump
The United States is confronted with yet another crisis in Iraq following protests outside the US embassy by Iraqi protesters infuriated over Washington's recent deadly military aggression on the Arab country.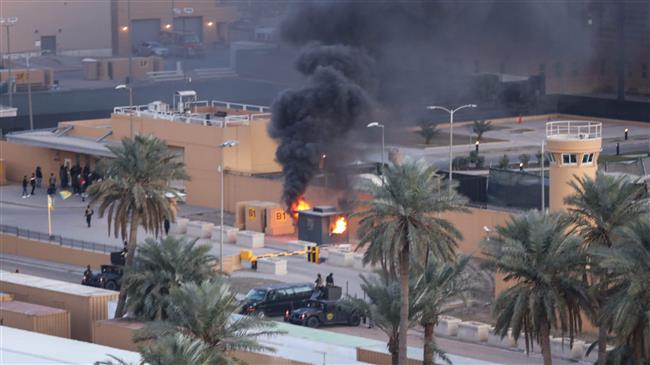 The US embassy in the Iraqi capital of Baghdad was evacuated on Tuesday after thousands of angry demonstrators gathered outside the gates of the compound to condemn Washington's fatal military strike that targeted Iraq's Popular Mobilization Units (PMU).
On Sunday, five facilities run by the Iraqi PMU forces in Anbar province and neighboring Syria were targeted in the attack, which has left casualties, including over a dozen people dead with scores injured.
US officials claimed the attack came in response to a rocket strike on Friday which killed a "US civilian contractor." They said the attack targeted an Iraqi military base housing US and Iraqi forces in the Arab country's north.
Washington has accused the Islamic Republic of being behind both the Friday rocket attack as well as anti-US protests in Iraq, accusations which Iran has vehemently rejected.
Iran calls on US to quit destructive policies in regionIran has called on the United States to abandon its destructive policies in the region as Tehran rejects Washington's groundless accusation that the Islamic Republic is behind anti-US protests in Iraq.
Meanwhile, the president's critics put the blame for recent incidents on him, accusing him of an erratic Middle East policy that resulted in Tuesday's scene.
"The attack on our embassy in Baghdad is horrifying but predictable," Sen. Chris Murphy (D-Conn.) tweeted. "Trump has rendered America impotent in the Middle East. No one fears us, no one listens to us. America has been reduced to huddling in safe rooms, hoping the bad guys will go away. What a disgrace."
While House Speaker Nancy Pelosi (D-Calif.) tweeted that "Escalation and violence must end," House Intelligence Committee Chairman Adam Schiff (D-Calif.) said, "We need to be clear-eyed about reducing tensions and the path forward."
Sen. Tim Kaine (D-Va.) also tweeted that "Trump's malpractice in the region is making us less safe. Time for Congress to stop this foolish rush to war."