Iran
Middle East
North America
Deputy Minister: US Medical Sanctions against Iran Turned into Opportunity
Deputy Minister of Health, Treatment and Medical Education Mohammad Reza Shanehsaz underlined Iranian pharmaceutical companies' efforts to produce all medical needs, saying that the US sanctions have turned into opportunity.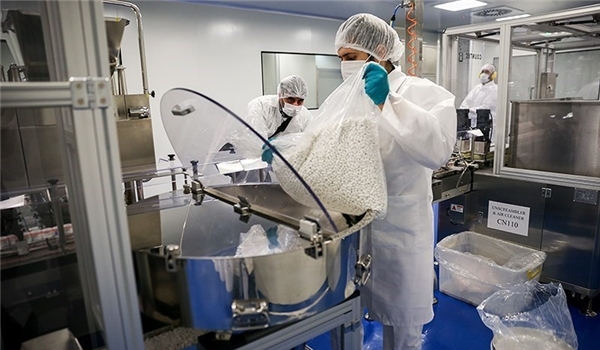 "Fortunately, we witness that our planning has led the drug and medical equipment producers towards production of newer products and their incentives have increased in a way that we witnessed unveiling of 4 probiotic medicine and 14 new medicine molecules," Shenehsaz told FNA on Monday.
He added that new medical products will be unveiled in the next few days.
"Our people have always proved that no one can talk to them with the language of force and as we witness, all sanctions have in recent years been turned into opportunity," Shanehsaz said.
Shenehsaz had also earlier this month emphasized that the country was able to produce nearly all its needed medicine despite the US sanctions.
Iran is currently able to produce %99 of medicine needed by patients with the remaining one percent either not being cost-effective to be produced domestically or it is a totally new product in the world, he said.
The deputy health minister added that some 180 medicines will be produced in Iran within two years, which will save 250 million dollars in currency for the country.
"Currently, Iran has a special status in terms of scientific products in the field of pharmaceuticals, which is indebted to the efforts of the local experts and elites," Shanehsaz said.
While the enemies are seeking to create problems for the country, it has attained self-sufficiency in producing medicine, he said, noting that there is no shortage of medicine despite sanctions and pressured piled on the country.
Iran has taken long strides in producing different types of drugs and medical equipment and exported them to many foreign states.
A recent report by the scientific and technological department of Iran's presidential office said that the country is able to produce almost all its needs to drugs indigenously.
In July, Iranian Vice-President for Science and Technology Sorena Sattari unveiled 8 new drugs during his visit to knowledge-based companies in Alborz province near Tehran.
The newly-developed drugs included Micro-Peltamparazole, Tamsulosin hydrochloride, Naltrexone base, Citalyptin phosphate, Peo gliatzone and other medicine.
The drugs have applications in treatment of digestive diseases and intestinal insufficiency, and will also be exported to the regional states.