North America
World News
Desperate Trump attacks WHO over coronavirus, threatens to withhold funding
US President Donald Trump has blamed the World Health Organization for getting every aspect of the coronavirus "wrong," threatening to pull back funding from the international organization.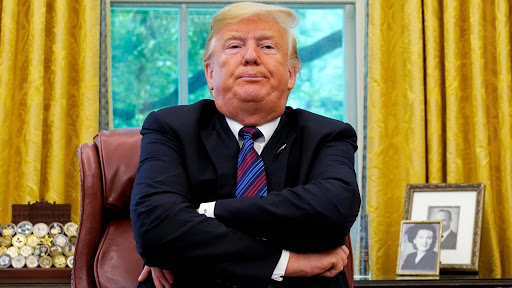 Speaking at a White House press conference Tuesday, Trump said that "they did give us some pretty bad play calling … with regard to us, they're taking a lot of heat because they didn't want the borders closed, they called it wrong. They really called, I would say, every aspect of it wrong."
He criticized the organization as being "very China-centric" for condemning his Jan. 31 travel ban, which led to foreign nationals, who had traveled to China within the last 14 days, being barred from entering the US.
"Take a look, go through step by step. They said there's no big deal, there's no big problem. There's no nothing, and then ultimately when I closed it down, they said I made a mistake in closing it down and it turned out to be right."
The WHO, the United Nations' health agency, began to sound the alarm on the outbreak of a new coronavirus in Wuhan, China in mid-January.
Later on January 30, it designated the COVID-19 pandemic as a global health emergency after there had been only 8,200 cases in 18 countries across the world.
WHO officials declared the outbreak a pandemic on March 11, when there were only 121,000 confirmed cases globally.
So far, the virus has affected over 1,430,000 worldwide and killed more than 82,000, according to worldometers.info. In the United States, more than 400,000 people have tested positive and 12,000 have died.
The US president also said on Tuesday that Washington would put a "very powerful hold" on money it sends to the WHO. However, when asked if it was the right thing to do amid the ongoing crisis, he said, "I'm not saying I'm going to do it, but we will look at ending funding."
According to the WHO's most recent notice of assessment, the United States was expected to pay $115,766,922 to the agency for the biennium of 2020-2021.
Trump's criticism of the WHO came while the agency itself disapproved of some of his policies and practices surrounding the virus.
The organization has urged people against calling COVID-19 the "Chinese virus" as Trump has done, arguing that it could unintentionally result in racial profiling.
Trump insists COVID-19 a 'Chinese virus,' arguing his labeling 'not racist'US President Donald Trump insists on calling the novel coronavirus a "Chinese" one, arguing that it refers to where it is from and "not racist."
"Viruses know no borders and they don't care about your ethnicity, the color of your skin or how much money you have in the bank. So it's really important we be careful in the language we use lest it lead to the profiling of individuals associated with the virus," Dr. Mike Ryan, the executive director of WHO's emergencies program, said on March 18 at a news conference when asked about Trump's remarks inciting violence against Asians.
Trump removes top coronavirus watchdog
President Trump has removed, Glenn Fine, the inspector general tasked with overseeing the government's $2 trillion in emergency coronavirus funding.
Fine was named last week to chair the Pandemic Response Accountability Committee, a committee acting as a sort of uber-watchdog over the federal government's response to the new coronavirus, including health policy and the largest economic relief package in US history.
The decision to remove Fine, the acting inspector general for the Defense Department, from his post fueled concerns in Congress about oversight of the relief package.
Congressional Democrats said Fine's removal reinforced their determination to strictly oversee the massive spending package.
House of Representatives Speaker Nancy Pelosi described the move as "part of a disturbing pattern of retaliation" by Trump.
"We will continue to exercise our oversight to ensure that this historic investment of taxpayer dollars is being used wisely and efficiently," she said in a statement.
Trump has designated the Environmental Protection Agency's inspector general to be the new acting Pentagon IG.
Trump slams US watchdog's report on shortages at coronavirus-hit hospitals
Trump has attacked the US Health Department's inspector general Christi Grimm over a report that shows American hospitals are suffering shortages on the frontlines of the coronavirus outbreak.
The president described as a "fake dossier" the findings that confirmed hospitals nationwide had insufficient capacity to handle the surge of coronavirus patients as reported by governors, mayors and local health officials.
Trump accused the inspector general of being politically motivated, asking why she had not spoken to admirals, generals, the vice president or other relevant authorities before working on the report.
According to an HHS OIG spokeswoman, the office "approached this survey with the same integrity and quality standards as we have in previous work."
The spokeswoman also said that staff had interviewed "knowledgeable professionals at more than 320 hospitals across 46 states."
Hospitals have complained about major challenges in testing and treating patients, reporting having sufficient capacity to handle the increase in needed care, the HHS inspector general said in the report which is based on 323 hospitals surveyed from March 23 to 27.