Syria
Destroying Syria chem. weapons starts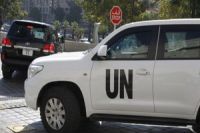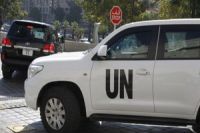 A team of international disarmament inspectors has started the process of destroying Syria's stockpile of chemical weapons and the machinery used to produce them.
A UN official, who works alongside the members of the team from the United Nations and the Organization for the Prohibition of Chemical Weapons (OPCW), said a combination of both weapons and some production equipment would be put out of order by the end of Sunday.
The team of inspectors arrived in Damascus on October 1 to verify details of the arsenal turned over by the Syrian government.
The team is in Syria under the terms of a UN resolution that the Security Council unanimously passed on September 27, and requires Syria to eliminate its chemical weapons stockpile.
Under the document, the council "decides, in the event of noncompliance with this resolution, including unauthorized transfer of chemical weapons, or any use of chemical weapons by anyone in the Syrian Arab Republic, to impose measures under Chapter VII of the United Nations Charter."
The UN resolution enshrined a US-Russian agreement for Syria to turn over its chemical weapons for destruction.