Palestine
Dismissed employees to stage a sit-in and open strike in Ramallah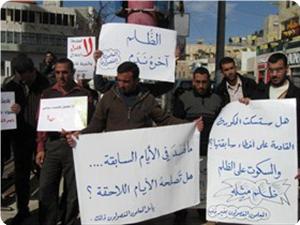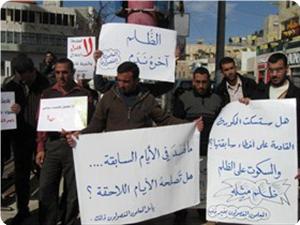 A number of employees, dismissed from their jobs on political grounds, called for a continuous sit-in and an open-ended hunger strike on Tuesday in case Fayyad's government did not meet their demands concerning the implementation of Supreme Court's decision to let them immediately return to their jobs.
In a statement, the dismissed employees in West Bank called on all the dismissed employees from the Palestinian ministries to participate effectively in the strike and the sit-in on Tuesday morning in Ramallah.
Tamer Wahdan was one the participants in the sit-in who has confirmed to launch an open-ended hunger strike till his return to his job.
The Palestinian Supreme Court had issued a judicial ruling on Tuesday September 4, 2012 considering Fayyad government's decisions to dismiss the employees for political reasons illegal and void and ordered the government to reinstate them. However, Fayyad government ignored the Court's decision.