North America
Disturbing photos show bodies piled up in Detroit hospital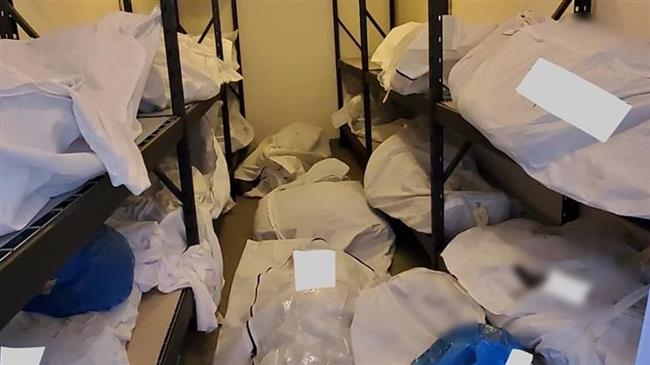 Emergency room staff members at a hospital in the US city of Detroit have shared photos showing dead bodies of coronavirus victims being piled on top of each other in makeshift morgues.
The Detroit Medical Center in the largest and most populous city of the state of Michigan was overwhelmed with dead coronavirus patients and the management decided to store the corpses in vacant hospital rooms and piled on top of each other inside refrigerated holding units brought into the hospital's parking lot.
"All I know is we ran out of beds to keep our patients on, so we couldn't spare any for the bodies," CNN reported the Sinai-Grace Hospital ER worker as saying.
CNN obtained snapshots through network reporter Marshall Cohen on Twitter on Monday.
THREAD: This is the true human cost of #COVID that you don't see on TV very often. CNN obtained photos from ER staff at a Detroit hospital, showing bodies pilled up in vacant spaces because the morgue was full. Nearly 1,500 people have died in Michigan, and 23,000 nationwide.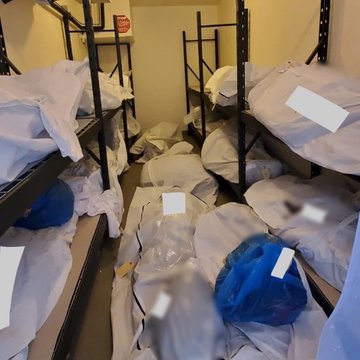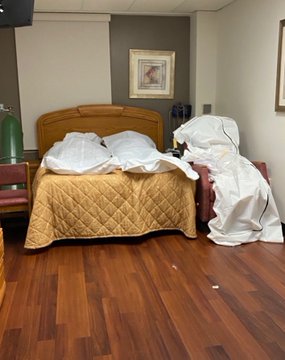 One photograph showed white body bags stacked on the floor and what look like large, open, metal and wood-planked bookshelves in a long closet, along with several blue string sacks tossed on them.
"The blue bags shown in one of the photos are the personal effects of the deceased," Cohen wrote.
Another photo showed two white body bags lying across a gold quilted comforter on a double bed, with another full body bag sitting in the chair next to it.
"At least one room, which is typically used for sleep studies, was used to store bodies because the morgue was full," Cohen added.
A hospital spokesman told CNN, "Surge plans are in place at our hospital to handle the increase in patient volumes to ensure we provide the safest and most appropriate care for our patients."
Two other emergency room workers confirm the photos were an accurate portrayal of the scene taking place at the hospital during early April, during one 12-hour shift they describe as overwhelming.
The ER workers spoke to CNN on the condition of anonymity out of concern for their jobs.
On Saturday, CNN visited the hospital. Five refrigerated storage units could be seen in the parking lot.
In response to a call for comment, hospital spokesman Brian Taylor told CNN, "Patients who pass away at our hospital are treated with respect and dignity, remaining on-site until they can be appropriately released."
He added, "Like hospitals in New York and elsewhere, we have secured additional resources such as mobile refrigeration units to help temporarily manage the capacity issue caused by COVID-19."
Confirmed US COVID-19 cases have been said to be 581,679 with 23,604 deaths reported so far.
Many Americans blame US President Donald Trump for a late response to the pandemic, rising the death toll.