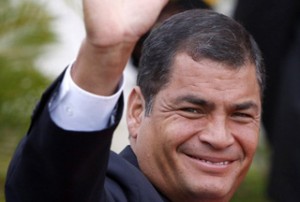 Ecuador has accused right-wing extremists in the United States of planning to destabilize the South American country.
President Rafael Correa's accusations, in his weekly radio program on Saturday, targeted US-based groups and not the US government, the Associated Press reported.
Correa said that the groups were funneling aid to parts of Ecuador's indigenous movement, plotting to destabilize progressive government initiatives rather than using direct confrontation.
The Ecuadorian president, however, gave no examples of any specific aid.
In the past few months, Indian protests and roadblocks have forced Correa to reconsider proposals to force mines on Indian lands without their consent and to put water under state control.