Egypt
Egypitan People protest football massacre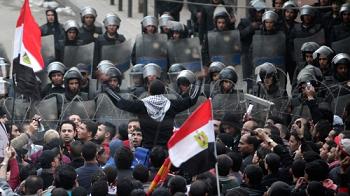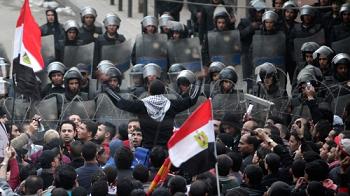 Clashes between Revolutionary Egypitan People and police outside Cairo's security headquarters are still going on for the fifth day on Monday, with activists calling for civil disobedience in the wake of a football massacre which claimed the lives of 74 people and injured hundreds.
Thousands of people protested outside the interior ministry in Cairo, the capital, accusing the ruling Supreme Council of Armed Forces (SCAF) of failing to prevent the deaths Wednesday's football violence in the northern city of Port Said.
Police met protesters hurling stones with tear gas bombs, with activists accused police of using bullets.
At least 12 people have been killed in clashes in Cairo and Suez since the match in the Mediterranean city of Port Said. The interior minister accuses protesters of trying to storm the ministry building, which the demonstrators deny.
The football disaster and tactics of security forces in dealing with protesters have added to anger at the military's handling of the transition, and fuelled calls for the army to return to barracks sooner than it had envisaged.
Protesters blame the police for allowing or even encouraging the violence during the match between al-Ahly and al-Masry on February 1.
Many say the police are using the same heavy-handed tactics against protests as the era of Hosni Mubarak, the toppled president.
MUBARAK TO GO TO CAIRO JAIL
Meanwhile, a plan to move dictator Mubarak to a Cairo prison hospital was reported, in a move said to do little to quell the anger of those demonstrating.
Protesters have long complained that the army was sparing its former commander the humiliation of jail by keeping him in a military hospital during his trial.
Mubarak has been charged over the deaths of protesters during the 18-day uprising that deposed him.
The hospital in Torah prison, where other former Mubarak officials and allies are held, had been deemed by officials not fit to handle Mubarak's treatment, though the former president's precise ailment is unclear.