Egypt
Egypt continues operations in Sinai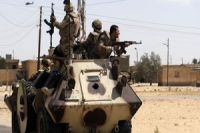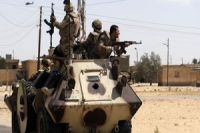 Egyptian security forces are pushing ahead with their mop-up operations against militants in the troubled Sinai Peninsula.
According to an unnamed military official, the operations were carried out by army troops in the restive peninsula, including the villages of al-Toma, al-Moqataaa and al-Mahdeya, south of Sheikh Zuwayed area, on Thursday.
According to Press TV, the official added the troops also destroyed several militant hideouts during their operations and confiscated large quantities of weapons.
Reports say that nine militants were arrested by Egyptian security forces.
The Sinai has long been considered a safe haven for militants who use the region as a base for terror activities. In recent months, the remote desert region has been the scene of growing violence and militant attacks on security forces.
On September 16, a roadside bomb planted by militants in the peninsula injured at least nine police cadets.