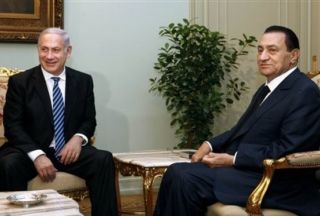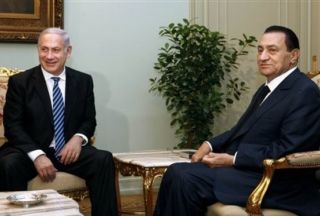 Egyptian officials have expressed pessimism at the prospects of a breakthrough in the stalled Palestinian-Israeli peace talks after meeting with Israeli leaders.
"There must be a strong Israeli strategic move that would deepen Palestinian trust in Israel's intentions, so we can move from indirect to direct talks," Ma'an news agency quoted Egyptian Foreign Minister Aboul-Gheit as saying on Sunday.
"Egypt thinks there is the need for direct talks… but to have these direct talks, the atmosphere must be ripe and enough progress made," he said after a meeting between Egyptian President Hosni Mubarak and Israeli Premier Benjamin Netanyahu in Cairo, saying a basis to proceed from indirect to direct was still lacking.
Aboul-Gheit said Mubarak had received a message on Sunday from US President Barack Obama and a telephone call from Secretary of State Hillary Clinton urging a swift shift to direct peace talks.
The foreign minister said he hoped direct talks would begin by September, when Israel's 10-month freeze on its settlement activities in the West Bank will expire.
Amid remarks by Israeli defense officials about a possible expansion the Palestinian Authority's security role in the West Bank and the removal of more movement restrictions, Aboul-Gheit called for more focus on the settlement issue and a return to the borders of 1967.
Also in Cairo, the Egyptian president separately met with US special envoy to the Middle East George Mitchell, who is shuttling between the foe sides, Egyptian mediators and Arab League leaders to rally support for direct peace talks between Palestinians and Israelis.
Speaking after holding talks with Mitchell, Arab League Secretary General Amr Moussa, however, ruled out an automatic move from one negotiation to another without guarantees from Tel Aviv that the Palestinian demands on key issues would be met.
Having met with acting Palestinian Authority Chief Mahmoud Abbas on Saturday, Moussa said he felt Abbas agreed with Arab League on "that the automatic transition from indirect to direct negotiations is not feasible."
In an interview published on Saturday, Abbas said he would not negotiate directly with Israeli leaders unless Israel recognized the June 4, 1967, lines as a basis for the borders of a future Palestinian state and agreed to the deployment of an international peacekeeping force in the West Bank and the Gaza Strip.