Iran
Egypt transfers leadership of NAM foreign ministers to Iran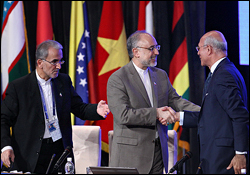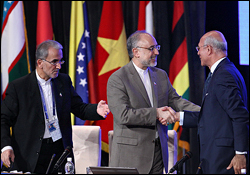 On Tuesday, Egyptian Deputy Foreign Minister Ramzi Ezzeldin Ramzi officially transferred the presidency of the Non-Aligned Movement's foreign ministerial meeting to Iran.
Iran is currently hosting the NAM meeting.
Among the dignitaries who will be present in the conference are Egyptian President Mohamed Morsi, Indian Prime Minister Manmohan Singh, and UN Secretary General Ban Ki-moon.
The summit of NAM heads of state and government starts on Thursday and lasts until Friday.