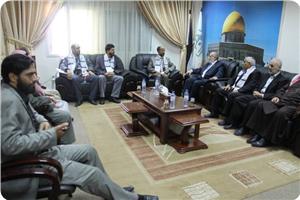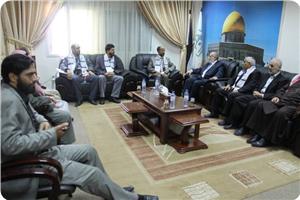 Ahmed Bahar, the Deputy speaker of the Legislative Council called on the Egyptian Bar Association to contribute in documenting the crimes of the occupation in Gaza in preparation for filing lawsuits against its leaders in International courts for trial as war criminals.
Bahar stated that the Israeli occupation has become very worried of such step, which constitutes a permanent inconvenience for it.
This came during a meeting between Bahar and the delegation of the Egyptian Bar Association, which was headed by the Secretary General of the Bar Association, lawyer Bahaa Abdel Rahman, accompanied by 11 other Egyptian lawyers, held in Bahar's office on Sunday
For his part; the head of the delegation said that Gaza was the best inspiration for the peoples of the Arab revolutions and Arab Spring, and asserted that the Bar Association is determined to prosecute the occupation leaders in international forums for their crimes against the Palestinian rights.
The Senior Hamas lawmaker welcomed the delegation, expressing his confidence in the Egyptian lawyers and all the Egyptian people in general.
He also praised all the efforts made ​​by the Egyptian leadership to end the Israeli aggression and to restore stability in the Strip, and expressed his appreciation for the Egyptians who came to the Gaza Strip to support its people.
Bahar pointed, during his meeting with the lawyers, to the ongoing suffering of the Palestinian people because of the aggression and the blockade, condemning the arrests of the Palestinian MPs in the West Bank and the deportation of the Jerusalemite MPs from their city.
Bahr has, earlier, received a delegation of Libyan doctors who have come to the Gaza Strip since the early days of the aggression to perform many complex surgeries and thanked them on the behalf of the Palestinian people for their excellent medical efforts.