Egypt
Egypt's troops fire at Brotherhood protesters, 5 die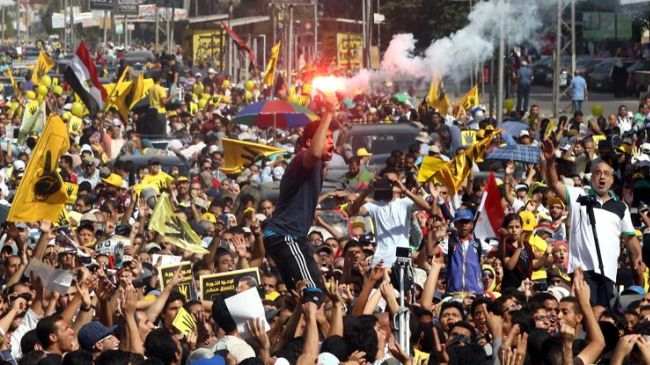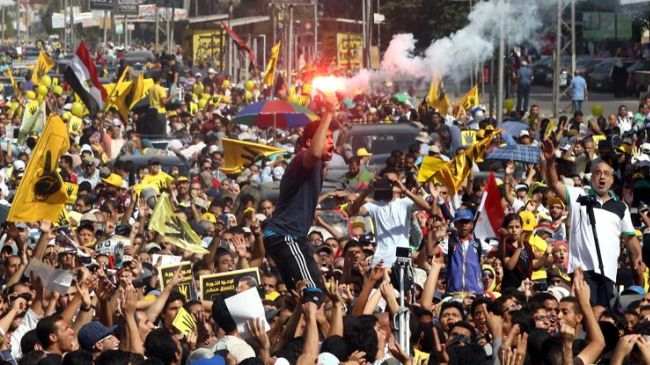 At least five people have been killed and dozens others injured in Egypt during clashes between security forces and supporters of ousted President Mohamed Morsi.
Thousands of Muslim Brotherhood activists and their supporters staged protests in Cairo after Friday prayers against a brutal crackdown by the army that toppled Morsi in July.
An Egyptian army vehicle fired live rounds at the protesters trying to enter Cairo's Tahrir Square, which had been the epicenter of the country's 2011 revolution. The riot police also fired volleys of tear gas to push them back.
Five Brotherhood supporters were killed in clashes in two neighborhoods of Cairo, reports said.
The protesters were chanting "El-Sissi is the enemy of God" and "Down with the murderer!" referring to army chief Abdel Fattah el-Sisi, who toppled the country's first democratically elected leader, Morsi.
The Brotherhood called Tahrir Square "the capital of the revolution."
On Thursday, the military-appointed interim government announced plans to seize the assets of the Brotherhood.
The Ministry of Social Solidarity said that the cabinet had formed a committee to investigate the Brotherhood's sources of funds and capture its assets.
The government would also ban or take over the extensive social services the group provides, including hospitals, schools, and charities, said Hani Mahanna, spokesman for the minister of social solidarity.
The ban is part of a recent court ruling but has only now been confirmed following a hiatus for appeals.
"By the law, by the last sentence, they are now banned," an Egyptian official said.
Egypt has been experiencing unrelenting violence since July 3, when the army ousted Morsi's government, suspended the constitution, and dissolved the parliament. It also appointed the head of the Supreme Constitutional Court, Adly Mahmoud Mansour, as the new interim president.
The government of Mansour has launched a bloody crackdown on Morsi supporters and arrested more than 2,000 Brotherhood members, including the party's leader, Mohamed Badie, who was detained on August 20.
About 1,000 people were killed in a week of violence between Morsi supporters and security forces after police dispersed their protest camps in a deadly operation on August 14.
The massacre sparked international condemnation and prompted world bodies to call for an independent investigation into the violence.