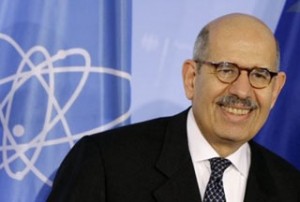 Iran says UN nuclear watchdog chief Mohamed ElBaradei has arrived in Tehran on an official invitation from the head of Iran's nuclear agency.
On Saturday afternoon, the International Atomic Energy Agency (IAEA) chief arrived in Tehran on a two-day visit to meet with the head of Iran's nuclear organization, Ali-Akbar Salehi.
"ElBaradei's visit to Tehran has been scheduled one week ahead of talks between Iran and the six major world powers (P5+1) and has nothing to do with the Geneva meeting," the Atomic Energy Organization of Iran said in a statement Saturday.
"The trip is taking place at the invitation of the head of the Atomic Energy Organization of Iran, Ali-Akbar Salehi, [that was put forward] on the sidelines of the 53rd annual regular session of the IAEA general conference in Vienna."
The statement added that the visit was aimed at the "continuation of cooperation to supply fuel for Tehran research reactor which produces radiomedicine".
The visit to Tehran takes place two days after Iranian representatives met with diplomats from the five permanent members of the UN Security Council – Russia, China, France, Britain and the US – plus Germany (P5+1) in Geneva.
During the seven-and-a-half hour meeting, Iran stated that the newly-announced Fordu site, some 100 miles south of Tehran, is open to IAEA inspections.
The Fordu site is the country's second nuclear plant, after the Natanz facility in central Iran, which, in 18 months time, will enrich uranium to the 5 percent level suitable for power plant fuel.