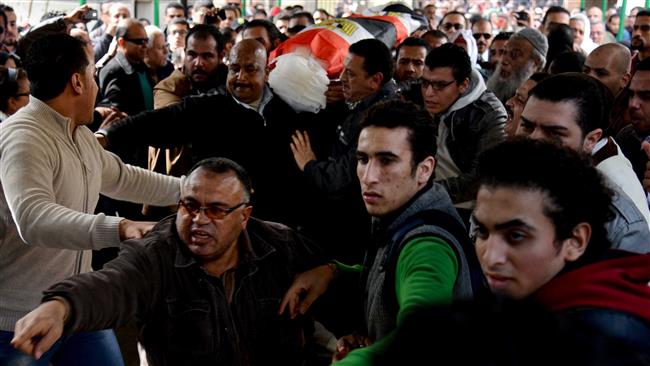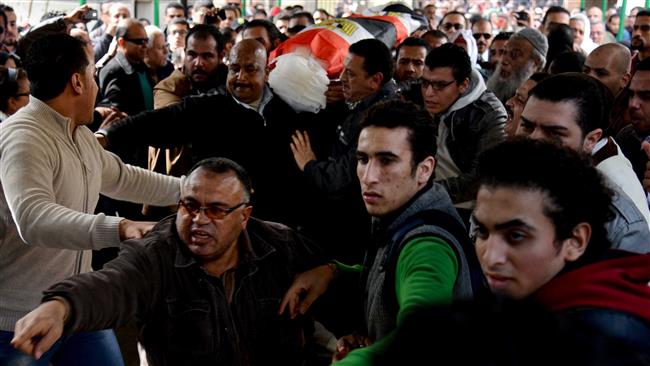 At least 11 people have been killed as Egypt marks the fourth anniversary of the revolution that toppled North African country's long-time dictator, Hosni Mubarak, Press TV reports.
Egypt's Health Ministry official, Khaled el-Khateeb, announced on Sunday that two protesters were killed when scuffles broke out between security forces and a group of demonstrators in northern district of Matareya of the capital, Cairo, on Sunday.
The development came as police has sealed off and armored vehicles are stationed around Cairo's iconic Tahrir (Liberation) Square – the epicenter of the January 2011 revolution against Mubarak, in anticipation of anti-government protests.
According to reports, three protesters were killed in the Egyptian capital city of cario, while the rest have been killed during rallies elsewhere in the country.
The deaths come a day after a 34-year-old female demonstrator, identified as Shaima al-Sabbagh died of birdshot wounds in clashes with police during a protest in Cairo's central Talaat Harb Square.
Egypt uprising
The 2011 revolution, which began on January 25, led to the overthrow of Mubarak. In an election after Mubarak's ouster, Muslim Brotherhood-backed Mohamed Morsi was elected president.
Morsi was later ousted in a military coup led by former military chief and current President Abdel Fattah el-Sisi in July 2013.
Egypt clampdown
The Egyptian government has been cracking down on any opposition since Morsi was ousted, and Sisi has been accused of leading the suppression of Morsi supporters, as hundreds of them have been killed in clashes with Egyptian security forces over the past year.
Rights groups say the army's crackdown on the supporters of Morsi has led to the deaths of over 1,400 people and the arrest of 22,000 others, including some 200 people who have been sentenced to death in mass trials.
The UN Human Rights Council has repeatedly expressed concern over the Egyptian security forces' heavy-handed crackdown and the killing of anti-government protesters.