Iraq
Enemies of Iraq's Unity target civilians again and killed 4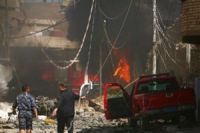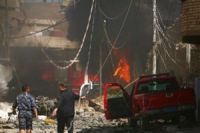 According to Iraqi police sources, at least four people have been killed and 23 injured by separate attacks targeting security forces across Iraq.
According to Xinhua, on Sunday morning, a militant drove his explosive-laden car into the entrance gate of the police headquarters in Baghdad's northern district of Kadhmiyah, killing four guards and injuring 17 people.
Hours later, a roadside bomb hit a police vehicle in the town of Saqlawiyah, some 50 kilometers west of the Iraqi capital of Baghdad, leaving two policemen wounded.
In northern Iraq, a senior police official survived a roadside bomb attack in western the city of Mosul, about 400 kilometers north of Baghdad. However, two of his security guards were injured in the attack
No group has claimed responsibility for the attacks, but the bombings bear the hallmarks of al-Qaeda-linked militants in Iraq, who are seeking to destabilize the central government.
There has recently been an upsurge in violence across Iraq, and the authorities say Qatar and Saudi Arabia have had a hand in some of the incidents.