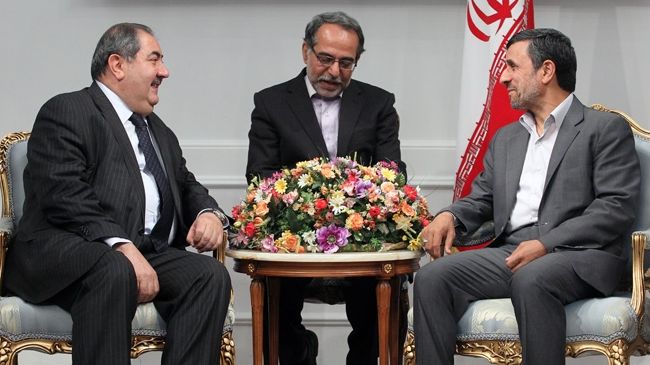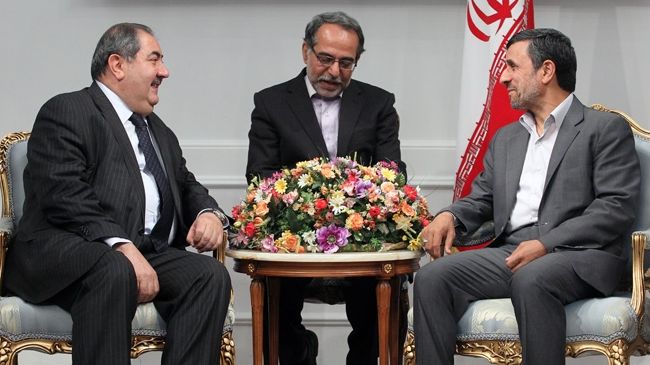 The Iranian president has warned against the enemies' plots to spread the conflict in Syria to the entire Middle East in a bid to perpetuate the domination of hegemonic powers.
"The enemies of nations intend to gradually spread the ongoing war and killing to other countries, and this is a plot by arrogant powers to weaken nations and pave the way to continue their dominations," Ahmadinejad said in a meeting with Iraqi Foreign Minister Hoshyar Zebari on the sidelines of the International Conference on Syria in Tehran on Wednesday.
"If nations stand by each other, the ongoing developments in the Middle East and North Africa will play out in their favor, said President Ahmadinejad.
The Iranian president underscored that hegemonic powers intend to drive a wedge between nations to undermine them and pursue their own interests.
He termed Iran-Iraq ties as "brotherly and unbreakable," adding that the two countries have common interests and enemies.
Ahmadinejad called on the Iranian and Iraqi people to continue supporting each other.
Zebari, for his part, said Iran has backed efforts to establish security, stability and integrity in Iraq, adding that the two countries have a good understanding of various bilateral and regional issues.
He pointed to the political and security consequences of the conflict in Syria, and urged all regional states to help the Syrian nation settle the crisis in the country through understanding and dialog.
Meanwhile, in a meeting with his Iraqi counterpart, Iranian Foreign Minister Ali Akbar Salehi called on different countries to take new initiatives to find a political solution to the unrest in Syria.
The crisis in Syria erupted over two years ago and many people, including large numbers of Syrian soldiers and security personnel, have been killed in the violence.
The Islamic Republic has repeatedly expressed its opposition to any foreign intervention in Syria's internal affairs, stressing that inclusive dialog and national reconciliation as well as free elections are the keys to resolving the unrest in the Arab country.
Iran hosted the conference on Syria under the banner of "Political Solution, Regional Stability" in Tehran on Wednesday. Participants from 40 countries discussed ways to find a political solution to the crisis in the Arab country.