Iran
Middle East
North America
Enraged by serial defeats in region, US targeted IRGC: Iran's Top cmdr.
The chief commander of Iran's Islamic Revolution Guards Corps (IRGC) says the United States has blacklisted the elite defense force out of the "vengeance and outrage" resulting from Washington's back-to-back defeats in the region.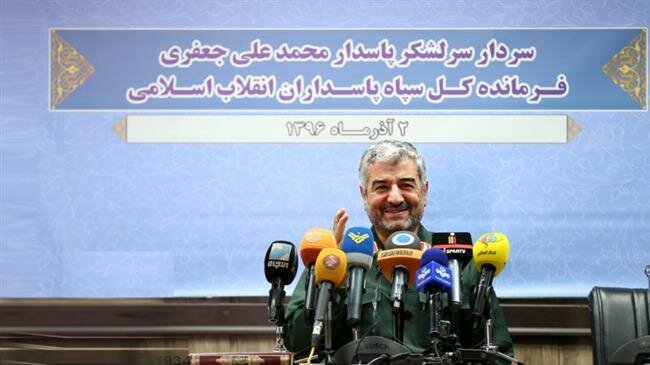 Major General Mohammad Ali Jafari made the remarks in separate messages addressed to the Iranian people and authorities in acknowledgement of their support for the Corps after the United States formally designated the force as "a foreign terrorist organization" last week.
The hostile measure prompted popular rallies across Iran in honor of the IRGC and successive supportive statements by officials of all ranks.
Iranians rally in support of IRGC after US blacklistingIranians have rallied across the vast nation to express support for the Islamic Revolution Guards Corps following Washington's blacklisting of the popular force.
Jafari further called the blacklisting an "inane and illegal measure taken by the adventuresome US president and the radicals around him."
Such a move "is a product of the vengeance and outrage caused by the pharaonic [US] system's serial defeats in the region," he added.
The designation, he added, is also a result of "the deadly blows [dealt to Washington] by the Iranian nation, and this popular revolutionary institution (the IRGC), which has been a successful trailblazer in the fight against terrorism."
He hailed the nation's support as an indication of national unity and integrity, which served as the key to success in the face of the challenges being posed to the Islamic Republic by the enemy front.
The IRGC has been playing a momentous role in fighting regional terrorism, especially following the emergence of the Takfiri Daesh terror group in Iraq and Syria.
At the request of the governments in Damascus and Baghdad, the IRGC's military advisors rushed to the aid of the national Syrian and Iraqi armies, paving the way for them to undo Daesh's gains and rid their countries of the outfit in late 2017, despite widely-reported attempts by the US and its allies to prevent Daesh's collapse.
Iran top military body warns 'terrorist' US CENTCOMIran's most senior military body vows to "spare no effort" in fighting the "terrorist" American forces operating in West Asia in support of the country's IRGC, a day after Washington blacklisted the elite military force.
In response to Trump's recent move, the General Staff of the Armed Forces of the Islamic Republic reciprocally designated the US administration as a "supporter of terrorism" and the US Central Command (CENTCOM) — including all its affiliated bases, units, and forces — as "a terrorist organization" pursuant to a decision by Iran's Supreme National Security Council (SNSC), the country's top security body.